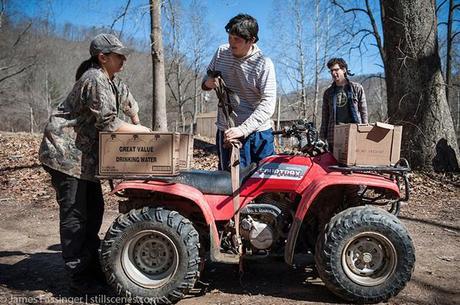 Clean Water Hub volunteers Kim Ellis (left) from Rock Creek, West Virginia and Casey Pegg (right) of Pittsburgh help Brett James tie down cases of water to his ATV at the group's Saturday water drop at the mouth of the hollow at Three Fork. Brett uses the water to drink, cook and bathe in. He says he hasn't even taken a bath in the municipal water provided by WV American Water since the "do not drink" order given by the state two months ago.
by James Fassinger / Truthout
It's been more than two months since Freedom Industries spilled 10,000 gallons of toxic 4-methylcyclohexane methanol (MCHM) and an unknown amount of a polyglycol ether, known as PPH, into the Elk River, a tributary of the Kanawha River, in Charleston, West Virginia. On January 9, 2014, nearly 300,000 residents from nine counties in the vicinity of Charleston were left without drinking water after the spill occurred just upstream from the main West Virginia American Water municipal intake and treatment center. State officials issued a "do not drink" order late in the day. On January 13, the advisory was lifted. But days later, Freedom Industries filed for Chapter 11 bankruptcy protection to hold off the growing tide of liability lawsuits for damages resulting from the spill. Two months later, residents and some businesses continue to use bottled water for drinking and cooking because they do not trust that tap water is safe.
Past experience with government and the failure of agencies entrusted to protect them and their water here in the heart of coal country over the decades are at the root of distrust many West Virginians feel after the spill. Although state authorities declared the water O.K. to use just four days after the spill and Barbara J. Reynolds, crisis communication specialist for the Centers for Disease Control and Prevention, used the word "safe" in a TV news interview February 24, a state of emergency is still in effect for nine counties, giving residents little confidence in the actual safety of their drinking water.
In Ripley, Jackson County, an area affected by the spill, Gail Rectenwald of Sandyville sits with samples of water from her well to give to Joe Manchin during the senator's meeting with residents at the Downtowner restaurant. Although her water was not affected by the chemical spill, she was there to lend support for new municipal water lines to be installed in the area. "We've never been able to drink our water," she says about their well.
Her family has been drinking bottled water for 25 years because there have never been any alternatives she says. The E. coli and iron levels in the water eventually got so high that the family had to install a $7,000 water filtration system just to be able to wash dishes and clothes and take showers.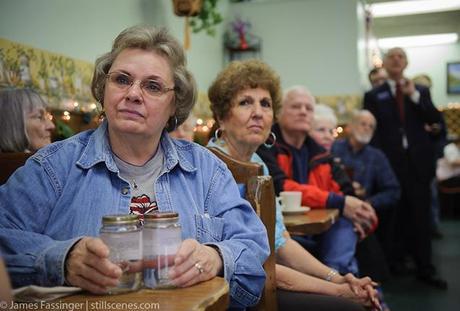 In light of what many see as an inadequate response from the state in getting residents clean, safe water, the WV Clean Water Hub was established. The all-volunteer grass-roots group funded by donations from across the country came together as the community joined with established environmental groups like Aurora Lights, Coal River Mountain Watch, Keeper of the Mountains Foundation, Ohio Valley Environmental Coalition and RAMPS to distribute water to those in need.
Just a few miles down Route 3 from massive piles of coal at the Elk Run Coal Co. processing plant, an old post office serves as the Clean Water Hub's main office and dispatch center in Whitesville. From here, they have been distributing water to people in seven counties since the first days of the spill. The office is humming with activity nearly 24 hours a day as volunteers field calls from residents needing water, schedule deliveries, coordinate other volunteers in the field, eat, sleep and store hundreds of gallons of clean water. They have so far been able to do what the state has failed to – make home deliveries of free water to elderly, disabled and other residents who cannot get out to pick it up themselves.
On the porch of his home in a hollow by Three Fork, Daniel J. Estep, talks about drinking the contaminated water accidentally after the "do not drink" order was issued January 9.
"I got a rash and fever and couldn't leave the house for days without throwing up," he told Truthout. Six weeks after the spill and five since the state has told residents it is O.K. to use the water, he drinks bottled water only but still doesn't feel right.
Daniel, a musician who plays in the local punk band When it Comes, was taught by his grandfather and is accomplished on any instrument, says, "I was accepted to The Juilliard School, but had to turn it down because my family didn't have the money." He spent a few years working in the coal mines but had to quit because of his health after being diagnosed with kidney disease – which his specialist told him was caused by toxins in the water from years drinking out of a polluted well.
Now that his tap water has been tainted from the spill, he doesn't want to chance drinking that either for fear of loosing his kidneys.
"They give me until my 30s before I have to go on dialysis," he says.
The hollow where Estep lives has been hit hard. Many around these parts have cancer, kidney disease or other ailments that residents attribute to the well water that they all once drank. For years, the coal company dumped a cocktail of solid and liquid chemical waste in coal sludge impoundments that surround this small hollow. After people's wells were contaminated as a result, West Virginia American Water brought in a municipal line in 2011. Now that the chemical spill has contaminated that source of water as well, many here don't know if they will ever drink the water again.
Ron "Ripcord" Dixon from Evan, West Virginia, unloads a case of water from a trailer filled with donated water brought in by Century Aluminum retirees from Ravenswood to a Clean Water Hub distribution point in Charleston's East End.
The retirees are a tight-knit group of former aluminum workers and their spouses who are fighting to get their health care benefits back after Century Aluminum canceled them when the company mothballed its facility in Ravenswood in 2009. The group's leader and spokesperson, Karen Gorrell, found out about the dire need for clean water in the area less than an hour's drive south from her on Facebook one evening.
"We had no idea how bad the situation was down here," she said. After mobilizing the retirees, the group managed to collect 200 gallons of water, in addition to 150 large cases of bottles, within 24 hours and drive it to the city's East End.
Although the aging retirees are struggling themselves, many without any health insurance, Gorrell said they never hesitated to lend a hand to help their fellow West Virginians. She later posted on her Facebook page, "It was heartwarming to see the generosity of so many people and knowing we could pay it forward for just a few."
As politicians, state and federal agencies, as well as scientists debate how safe the water is, residents continue to struggle with the decision of whether to drink it. Many with children are seriously considering moving out of state, while others are trying to figure out ways to pay for bottled water as long as they live in the affected counties.
Looking ahead – at least for the foreseeable future, until long-term water quality studies can be conducted – uncertainty about whether the water is safe will be a daily fact of life for West Virginians.