For my nails this week...well, today 'cause let's face it I can't wear just one shade for an entire week!...I chose Tiana from Zoya. I love this polish. I almost included it in my Summer Polish Picks, but chose Pop Beauty's Mint Magic instead. I just couldn't justify them both. I might actually prefer Tiana though! It's a beautiful spring green. It's a bright but not loud minty green that's a touch less blue and perhaps more yellow than a standard mint. Spring green is definitely the right way to describe it. The formula is great, though it requires a pretty standard two coats. The first coat can be a bit patchy, but nothing that isn't fixed with a follow up. A lovely shade that I adore for both Spring and Summer!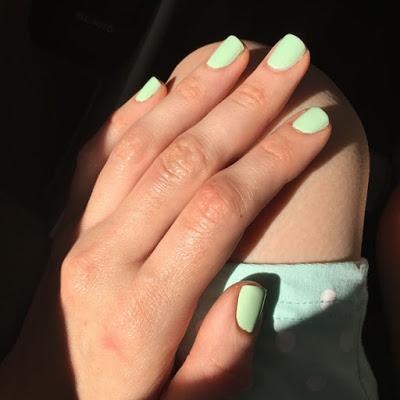 Sorry for the rubbish photo this week, but it's been a hurried start to the week already and I didn't get a chance to take a more professional pic. Like the accidental not-quite-matching to my dress? :)
What are you rocking on your nails this week? I'd love to hear about it in a comment!!!