AirAsia X, the long haul low-cost affiliate of the AirAsia Group, has announced that it will fly three times weekly from Kuala Lumpur, Malaysia to Mauritius starting October 4, 2016. This brings us Filipinos, with the help of AirAsia's network, closer to the island nation. Read more…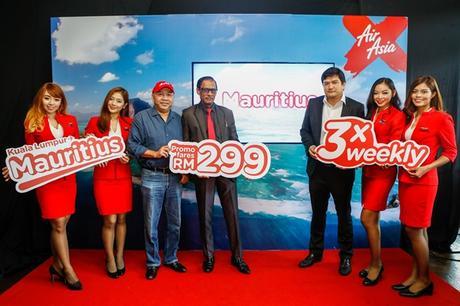 The announcement of the airline came with the great news that they are offering introductory one-way fares for only 299 MYR (~3420 PHP) all-in for the standard seats and 999 MYR (~11450 PHP) all-in for the Premium Flatbed, valid for travel from October 4, 2016 to May 22, 2017. The seats may be booked until June 5, 2016.
Passengers from Manila may easily fly to Mauritius with just one stop using AirAsia Fly-Thru. It allows seamless transfers and baggage tagging with one check-in at the origin airport.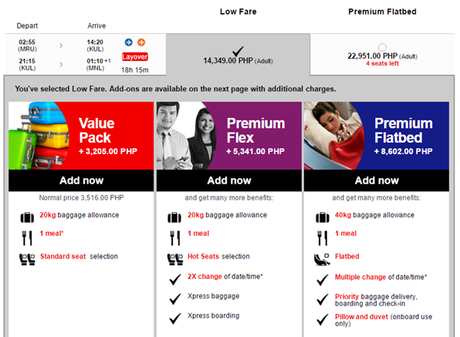 So what is there to see in Mauritius? According to our friends at AirAsia X:
Situated in the southeast coast of the African continent, Mauritius was once a volcanic island and is famous for its beautiful beach setting with white sand, warm sub-tropical climate and a topaz shoreline of the Indian Ocean. Guests can choose to relax on the longest beach in Mauritius at Belle Mare Beach sipping fresh sugarcane juice, or experience scuba diving, as the island is known for its excellent underwater visibility and warm temperatures that attract an abundance of marine life. If you are feeling a little adventurous, embark on an Underwater Walk around the ocean bed in an oxygen helmet and mingle with the fishes.

For a little bit of culture and history, head to the capital of Mauritius, Port Louis which boasts a plethora of colonial monuments or follow the pilgrimage route to Grand Bassin, whereby the second largest statue of Lord Shiva in the world is standing at the entrance to the natural crater lake on the mountains. In Mauritius, guests will be greeted to a multitude of ethnic groups in the country, inviting them to absorb the diversity from mouth-watering food to the many cultural festivals available throughout the year. This tropical island indeed is an all-year-round destination that hosts many exciting things to see and do while addressing the needs of all types of travelers such as adventure seekers, honeymooners, families, or solo travelers.
With its kissing distance to the African continent, the country is also an ideal stepping stone in discovering the exotic beauty of countries like South Africa, Botswana, and Namibia.
The Kuala Lumpur-Mauritius service of AirAsia X will be operated on the widebody Airbus A330-300, which has a capacity of 377 regular seats, including 12 award-winning Premium Flatbeds. The schedule is as follows:

Flights from Manila and Kuala Lumpur may be booked at www.airasia.com. For more updates and promos, follow AirAsia on Facebook and Twitter.