Hey Loves! 
I know I just posted a new
"Mani Time"
last week but I am currently loving my latest. Since I have been dabbling in the whole nail art aspect, I am always looking for new ways to paint my nails. Some work and others look like a two year old painted them. I saw a fun pin on
Pinterest
where the polish was layered or at least it looked layered. I decided to (kind of) recreate it. Obviously with a
Fab Junkie
twist. 
Check out my latest Mani Time!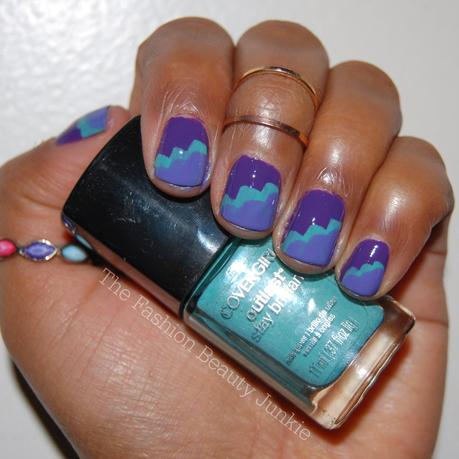 Products Used 
Base Color: "Celebutante" from ULTA
First Wave:
"Mint Mojito"
by Covergirl (shown)
Last Wave:
"On A Trip" by Wet n' Wild
Top Coat:
Fast Drying Top Coat by Inglot
______________________________________________________
Since I started playing a little more with different nail designs, I can't even imagine having just one plain coat of polish on my nails. I mean, I set up to paint my nails and my boyfriend even asked me "what design are you going to do now?". I think I may have to find a nail art rehab soon. 
Until next time................