When and Where
Mango Feast till 31st May 
Made in Punjab
Phone 0124 4949605
+91 8130911899
DLF Cyber City
6 & 7, Ground Floor, 
Cyber Hub, DLF Cyber City, 
Gurgaon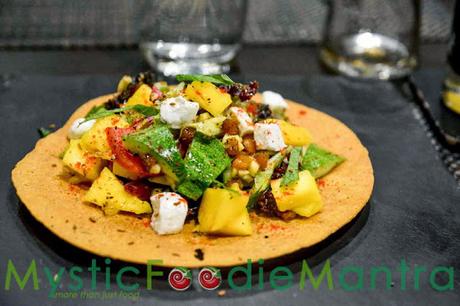 Aam kadak
Have you ever been in a situation when you wanted to weave an interesting article based on your understanding of the theme or your past experiences, however post your food tasting – you're thought process simply changed! Well, that's the effect I had when I went to Made in Punjab for the Mango Feast festival. It is on till 31
st
of May.
It turned out to be a rather different, enriching and satisfying experience and I got a chance to meet with their new chef de cuisine
Angshuman Adhikari
.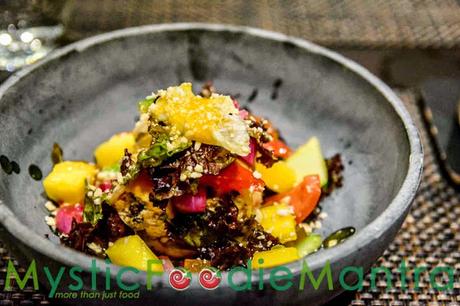 Bhap ki murghi 
We all have been eating street food specially chaat and tikki and Delhi's chaat is pretty famous as well! Every nook and corner of a colony will have a "thelewala" selling chaat or you will find one at your local neighbourhood sweet shop. Of all the savouring that I have done, my trophy goes to AAM BHALLA that I relished at Made in Punjab. I have been to multiple food promotional events and have been part of lot of promotions where seasonal fruits are the base. Couple of times, I have experienced that to churn out a dish, the base ingredient has been forcefully fit into the main dish – to add to the theme. However such additions and usage of ingredients do not do any justice and nor can it be called as an innovation. However, at Made in Punjab Chef adhikari's approach was very interesting. For example the Aam Bhalla was soaked in light mango yougurt and was dressed with aam ki launji( ery popular way of making aam ki chatni in eastern part of india), tamrind, raw mango and mint chutney. The mango and yogurt gave sweet and sour flavor that blended well. Aam Bhalla also had methi papri which complemented the flavor of mango. Aam bhala is an incredible stuff and one of the best chaat that I have ever eaten and I highly recommended it.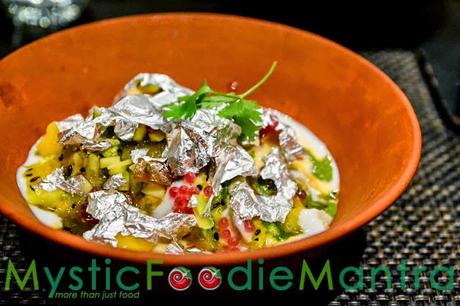 AAM BHALLA 
After a lot of discussion with Chef adhikari and Zorawar it was interesting to learn about new stuff in their kitty( will share later) I started my food tasting with
Aam kadak - khakra topped with fresh mangoes,mango kasundi( it was new for mn, never tried it before),sweet mango chutney, assorted greens,cream cheese -, it was sweet, crunchy, spicy and tangy, andanother winner dish for me .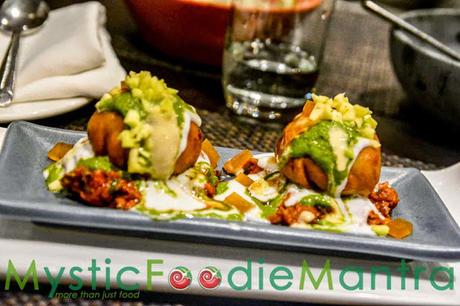 Aloo kairi samosa chaat
Next was Bhap ki murghi - Steamed chicken can taste so good.- If you happen to order this dish – you will know how different it is and steamed chicken has never tasted this good!  Minced chicken stuffed with aam papad and then steamed   - . With every bite, you get the hot flavor chicken that gets balanced with sweet aam papad which was stuffed inside. I also had an excellent salad chef shared that he prefers  lot of layers and flavours in his salad – This again was a winner dish.
Another interesting dish was Aloo kairi samosa chaat - , potato and raw mango stuffed in sphere samosa and served on the bed of spicy chickpeas, topped with mango flavoured yoghurt,mint & tamarind chutney, raw papaya & mango murabba. This was an excellent improvisation of the famous UP samosa chaat.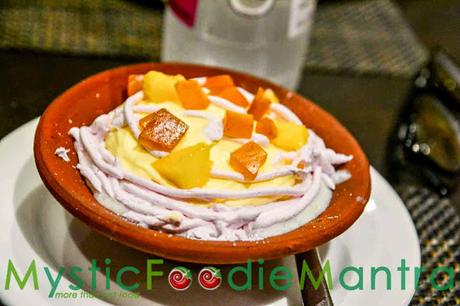 Phalraj rice and mango phirnee 
We finished our meal with Phalraj rice and mango phirnee and aam iside kulfi with flavor of rose in the form of caviar. Both of them were excellent dish and I promised myself to come back here soon!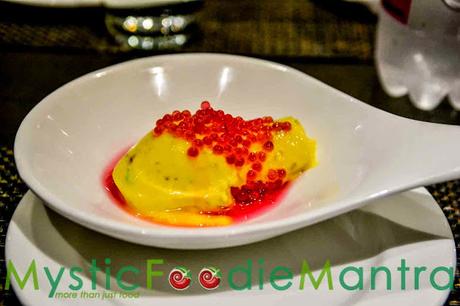 aam iside kulfi 
Sharing some exclusive news about Made in Punjab as soon you will see MIP in a very new avtar that will again set the high benchmark for indian cuisine. Watch this space for more
J
I call it Made in Punjab 2.0
J