The soft and creamy mango custard is perfect for the season and the crunchy Praline compliments it seamlessly. This Mango Custard with Cashew Praline is easy, delicious made with a few ingredients. It's a must during the mango season.
Mango: our favorite fruit – is readily available all year-long. However, the best ones, are in season from April through June – summers (in other words, right about now, so grab as much as you can because this is when the most flavorful mangoes arrive).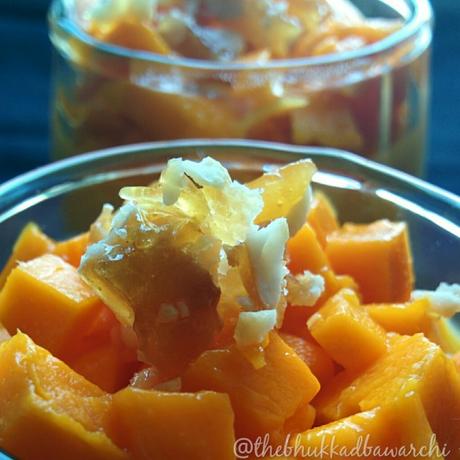 While there are thousands of mango varieties all over the world, there is only one we all crave for – THE ALPHONSO. What drives everyone to this variety is its voluptuous shape, the silky and smooth saffron – colored flesh, and the slightly fibrous and not too sweet taste – it is really mouth-watering.
In Mumbai, many restaurants put on mango festivals, and street vendors sell freshly squeezed mango juice. Mango is mostly used in desserts and drinks like lassi, falooda, milkshakes etc. The most popular way of eating Alphonso is pulped, thickened with milk or cream, into which deep-fried bread (YES – AAMRAS PURI <3) is dipped and savored.
Mango an incredible fruit and we should celebrate its existence ……….seriously!! Try this easy dessert recipe, and you will fall in love with mango all over again!!! For more dessert recipes, you might want to try these as well >>> Choco Oreo Delight and Double Chocolate Tart.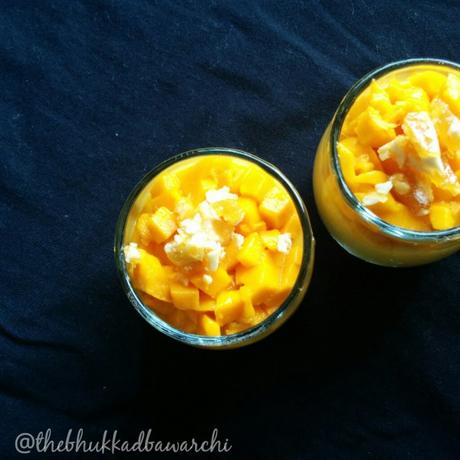 Ingredients: (makes 10 small servings)
1 medium-sized ripe mango, chopped
1 ½ medium sized ripe mango, pureed
½ liter milk
2 tbsp. sugar
1 tbsp. corn flour
For the Cashew Praline
100 grams Cashew, chopped
3 tbsp. sugar
1 tsp. butter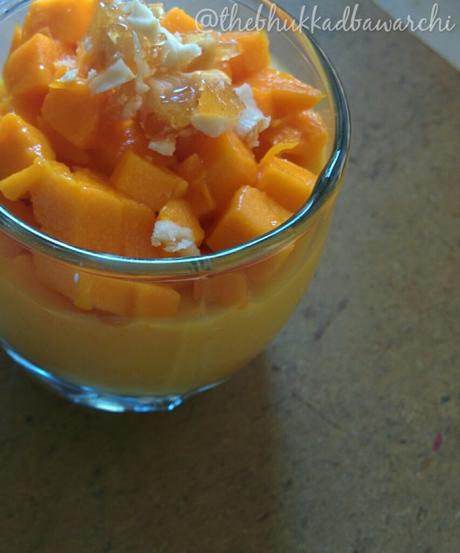 Method:
In a saucepan, heat milk over high heat. When the milk starts boiling, reduce the heat to medium-low and let the milk reduce to half its quantity. Add the pureed mango, corn flour paste (mix corn flour with a little milk to make a thick paste), sugar, simultaneously whisking it with a whisker to avoid lumps.
Let this mixture heat for about 6-7 minutes over medium heat and turn the heat off. Once it is cooled pour into serving glasses or bowls (You may also add some of the mango pieces to this custard).
For the Cashew Praline: In a pan, melt sugar and butter over medium heat. When the sugar starts dissolving, increase the heat to high. Bring the mixture to boil without stirring until mixture turns golden. Remove from heat. Set aside for 2 minutes to allow bubbles to subside. Add the chopped cashew and mix well. Pour this over butter paper or butter – greased surface carefully and allow it to cool. Crush the praline with a rolling-pin.
Place the chopped mangoes over the custard, top it with crushed Praline and serve chilled.