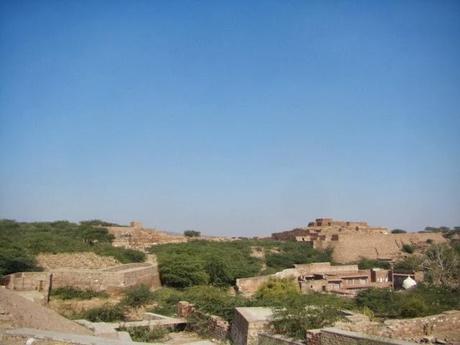 Still Jodhpur,Mandore
Day 8 January 6 2014
An early breakfast of pineapple and water melon later we headed towards Mandore. This was the site from which Rao Jodha contemplated shifting his fort and headquarters to Mehrangarh, the fort of the sun.There are many folk lore and legends. Each person we encountered added his own two bits...The result was an amazing tale...read on...Mandore.8 kms from Jodhpur.We were greeted with a typical small  town entrance ..dirty surroundings, smelly walls and tiny shops. Ubiquitous in Rajasthan are the pyaz ki kachori and Mirch bada and ginormous woks full of oil ,probably as old as the shop itself.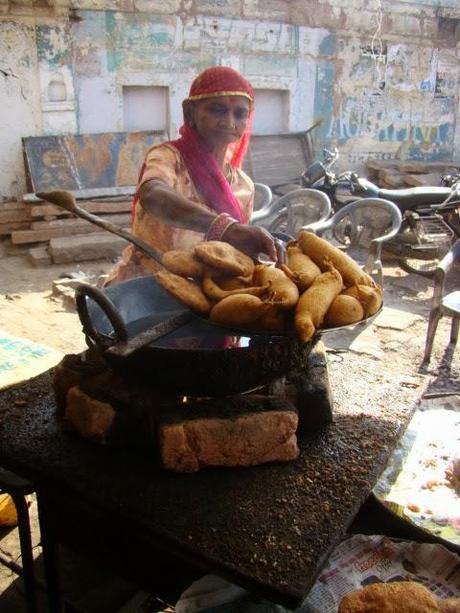 Here the lady frying, rather re frying the Kachori and Mirchi bada was old...really old. Almost as old as Mandore itself.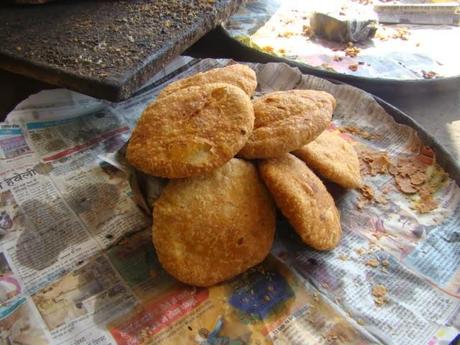 a closer look at the pyaz ki kachori.
Hubby dear loves to chat with people like so and sat down to have a cup of tea. To keep him company a kitten arrived , mewing incessantly, whom sweet child thought to be a stray.  Turns out, the cat was a beloved pet ,who was demanding her milk.Angrily.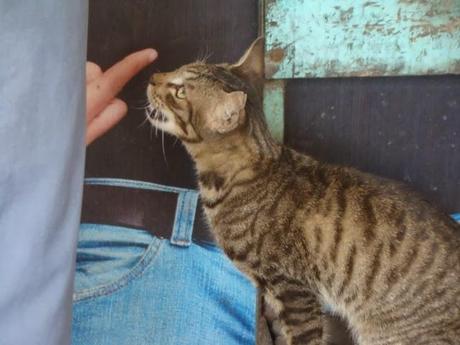 So after the hubby dears tea was made,some milk was heated for her and poured into a tea cup..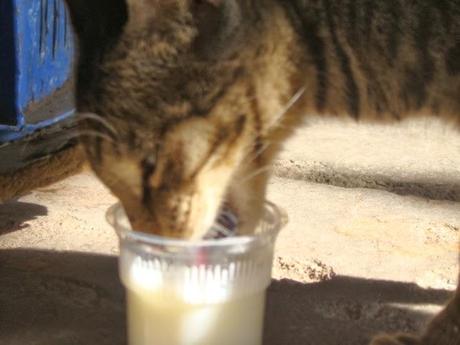 These ladies were returning from the temples at the fort here,a ritual followed ,well religiously.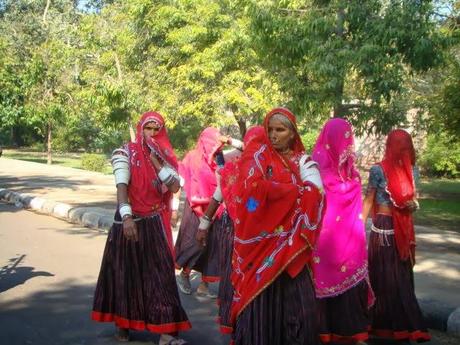 Wild life is rampant here. Other than the standard dogs and cats there were Langoor .playful or no, they are not to be fooled around with. One Langoor was enjoying shelling a whole bagful of peas he must have picked from some one's house.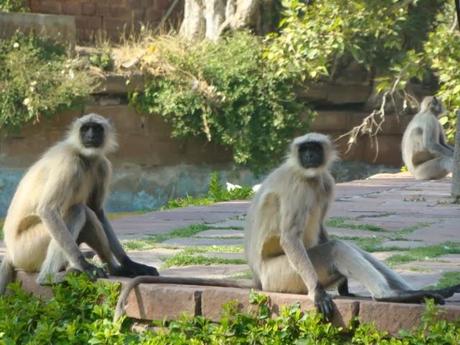 Outside the Mandore fort, are the memorials to the Rajputs of Rao Jodhas Clan.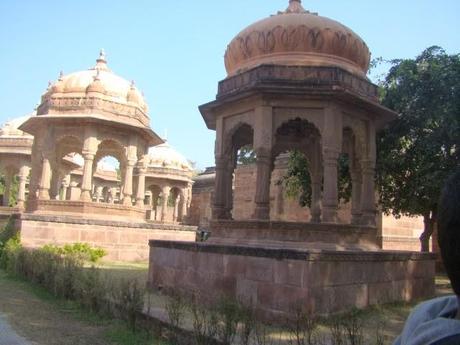 Mandore was where the Rajput rulers were cremated until Raja Jaswant Singh died thus Jaswant Thada. ..so you have Chattris where a lamp is lit once a year .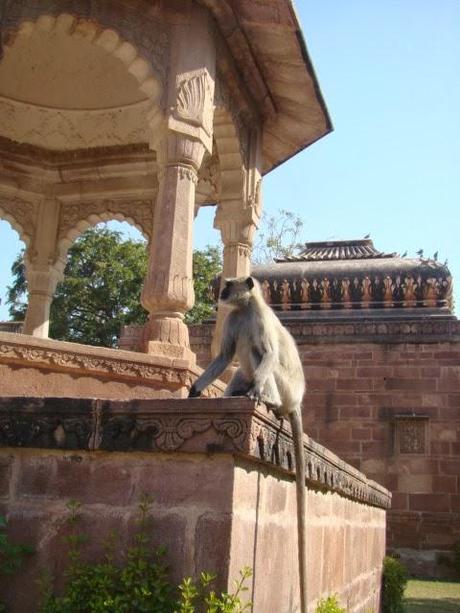 Devals where they light lamps every day and Thadas where they light lamps twice a day.
Beautiful.
This old man who was the care taker narrated some legends...
The ornately carved Devals are beautiful. This fort was recently handed over from the ASI to the royal family,the transition would ensure a better upkeep and cleanliness.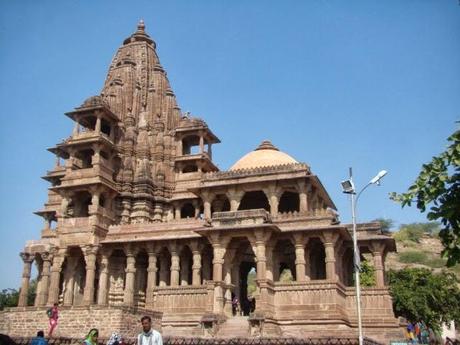 Bus loads of school girls from Gujarat were visiting and getting their pictures clicked.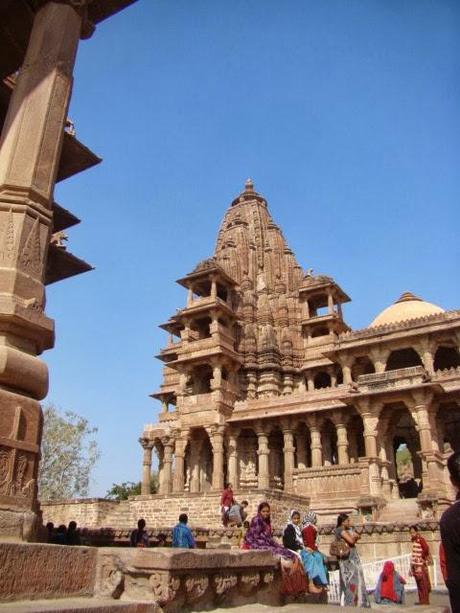 And instant service,photos in a jiffy,all for INR 30. In technicolour,post card size.
Ingenuity.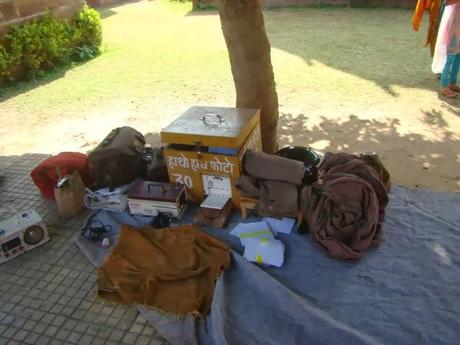 Back to the Devals and the stories...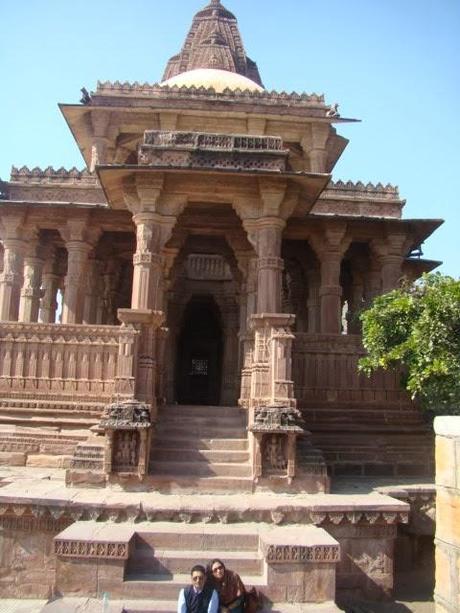 Mandore,the home of Mandodari, Ravan(the demon king)'s most important wife has a wonderful legends to complement these beautifully carved monuments.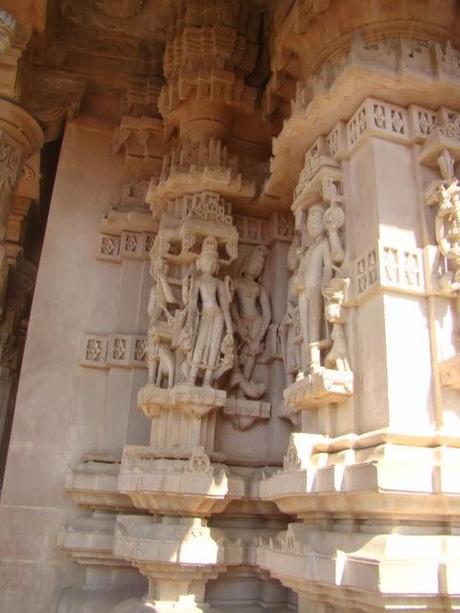 Once upon a time many sages were praying to God Shiva on this hillock while a cauldron full of kheer(rice pudding) bubbled gaily on. They went for their daily ablutions and left the pot unattended.  A scorpion fell into the pot, poisoning the kheer.  A female frog had been  watching and as the sages were about to partake their repast she jumped into the pot and died. 
They wondered why the frog jumped into their kheer and discovered the scorpion. 
Grateful to the female frog, they brought her back to life in the form of a girl called Mandodari. When they tried to find a suitable match for her ,none of the kings and princes accepted her as her lineage was doubtful. Ravan , a learned Brahman came forward and married her...but as all Indians know, did not live happily ever after.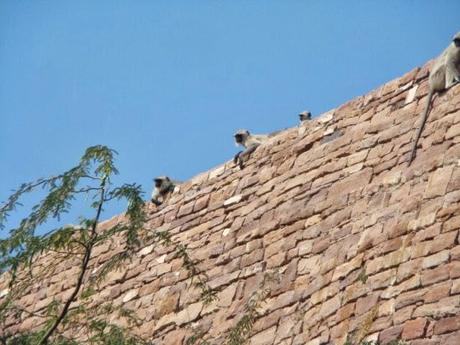 So Rao Jodha and other Rathores came from Mewar with 200 people in the 15th century and made Mandore his capital . However as the fort was crumbling, he looked for a better position to build his fort.  Hi dreamt of a hillock, and asked his men to clear off the hillock.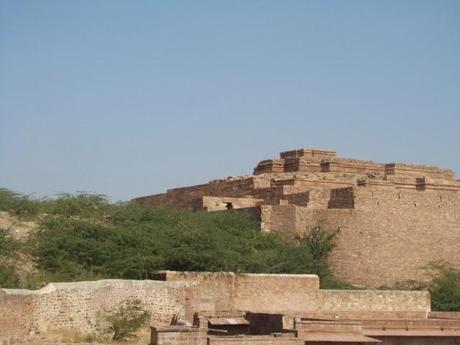 Only one man ,Chidiyawale Baba (looked after the birds) lived there who was rightly
furious at being asked to leave.
His curse of repeated droughts brought Rao Jodha to his knees, begging for forgiveness.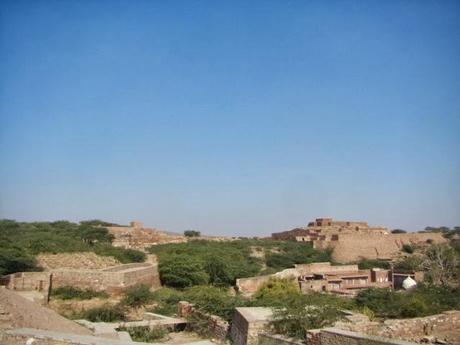 The baba relented and a said that only if a man volunteers to be buried alive, would the curse become ineffective.  By evening a man called Meherwal volunteered and his sacrifice allowed Rao Jodha to construct the Mehrangarh Fort.
This fort was abandoned and lies in ruins with inscriptions dating back to the 4th century AD.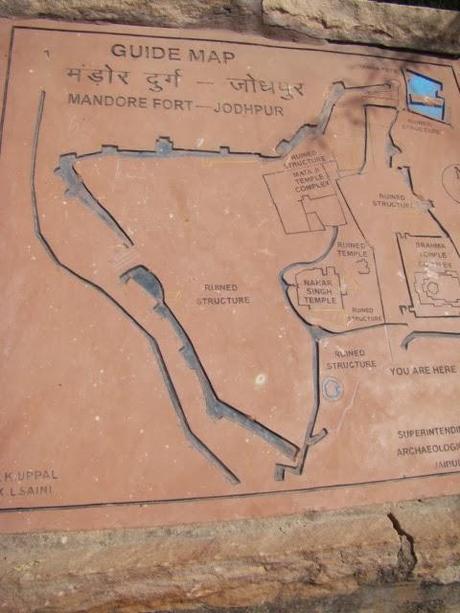 An eerie walk through the crumbling ramparts was fun.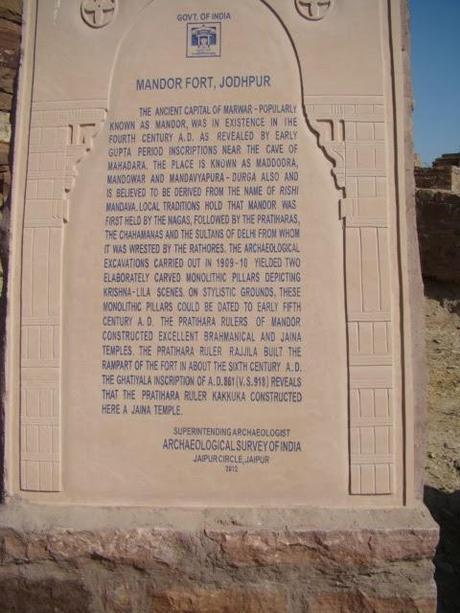 Especially with the realisation that almost 15 centuries ago someone may have walked the same path...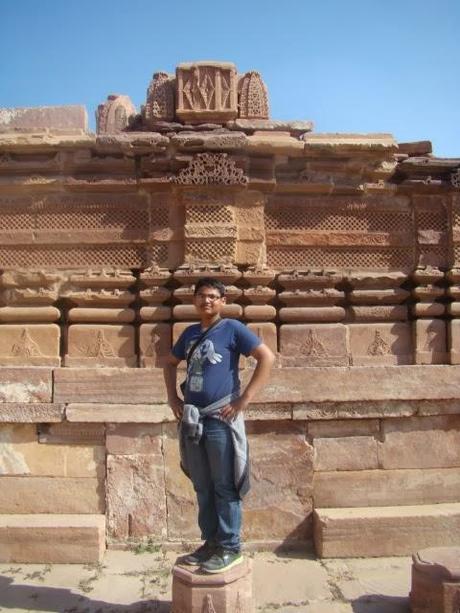 These inscriptions may have their own tales to tell...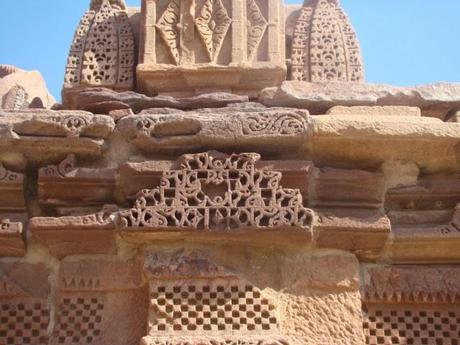 And these walks brought out our cache of Ruskin Bond inspired ghost stories...PS this looked like someone had just done some black magic-Tona Totka a few days ago...vermilion and silver leaf on a corner stone ,hidden from prying photographic lenses-like mine.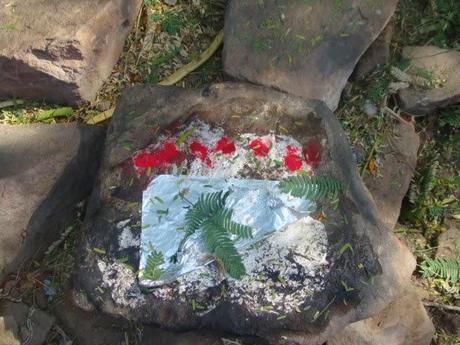 OK,a long walk back out of the fort to the exit gates and the chana chor garam wala...
Fried black gram and onions and coriander and lemon juice and tomatoes and DUST,that which makes all street food yum!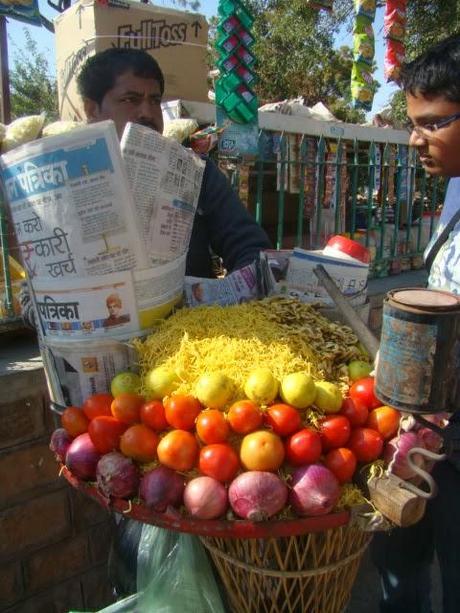 And the jaljeera wala...this sweet child refused.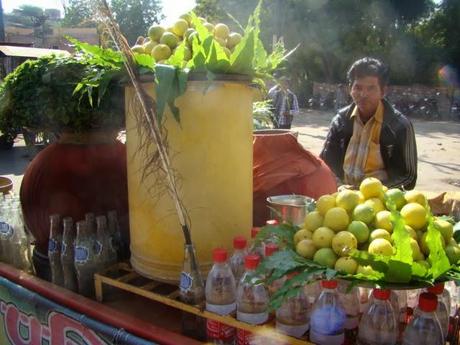 Back to the city for lunch at Kalinga Hotel-Laal Maans and hot tandooris Rotis...
Another star attraction for the boys...
A steam engine.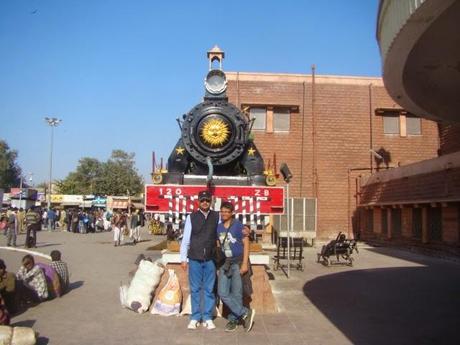 I don't understand this fascination for steam engines and coal and oil and the Chuk Chuk...
But whatever floats their boat!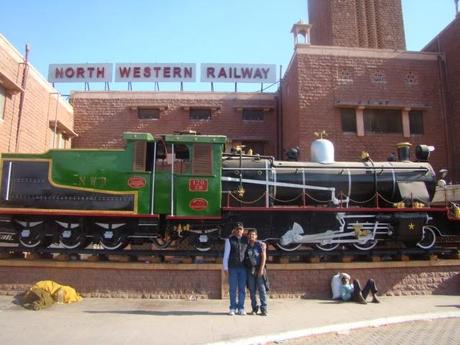 Off to Um
ed Bhavan palace next...vintage cars and beautiful time pieces. ..
'Till I bake again...