All of us in treatment following surgery for Breast cancer, be it radiation or chemotherapy or both, experience treatment-related fatigue; given how we feel, exercise is the last thing on our minds.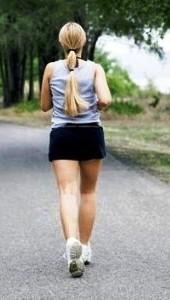 Yet, a recently published review of several hundred studies evaluating the effect of exercise on cancer-related fatigue both during and after cancer treatment states that exercise is just what we need to do to manage our fatigue.
The two authors of this British review, Fiona Cramp and James Byron-Daniel, summarized their findings in an abstract, stating that fatigue, or tiredness, has long been recognized to be a side effect of cancer and its treatment. In the past, people with cancer were encouraged to rest if they felt fatigued. In recent years, physical exercise has been suggested as helpful in reducing the fatigue that is associated with cancer. A number of studies have been carried out to investigate the effects of exercise both during and after treatment.
Cramp and Byron-Daniel's current review was carried out to evaluate the effect of physical exercise on fatigue related to cancer. Fifty-six studies, involving a total of 4,068 participants, were included in this review.
Results of the review suggest that physical exercise such as aerobic walking and aerobic cycling can help to reduce fatigue both during and after treatment for cancer.
The benefits of exercise on fatigue were observed specifically for people with breast cancer and prostate cancer.
Fiona Cramp, who worked on the analysis at the University of the West of England in Bristol, stated, "Some people will be well enough that they're able to go for a jog or go for a bike ride, and if they can, that's great. But we would encourage people to start with a low level."
"Light-to-moderate exercise has the advantage of being something people can do on their own time, for little or no cost," said the researchers.
Citation: Cramp F, Byron-Daniel J. Exercise for the management of cancer-related fatigue in adults. Cochrane Database of Systematic Reviews 2012, Issue 11. Art. No.: CD006145. DOI: 10.1002/14651858.CD006145.pub3.