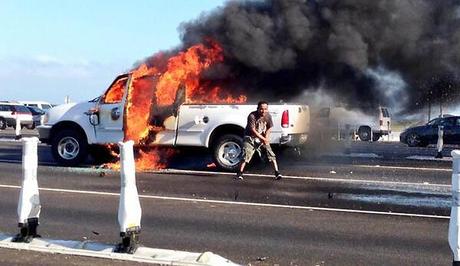 Photo By Kevin Wilson/Twitter
File this one under WTF, and "thanks for trying."
A commuter set his truck ablaze on the Oakland-San Francisco Bay Bridge this morning, and danced around the flaming vehicle. The act shut down two lanes for half an hour, and backed traffic up for miles.
A couple of johnny-on-the-spot DHS officers who happened to be in the area at the time of the fire detained the man before police could show up at the scene.
According to a California Highway Patrol officer named Ferguson,"He (the suspect) received injuries from the fire. It is not clear at this point if the fire was accidental or intentionally set."
The fire setter has not been charged, and he has been released from a psychiatric hospital. Officers have explained that he experienced a "psychiatric emergency."
Welcome to the burning rage of morning Bay Area traffic.