I am sorry for the back to back post on malt/whooper cookies.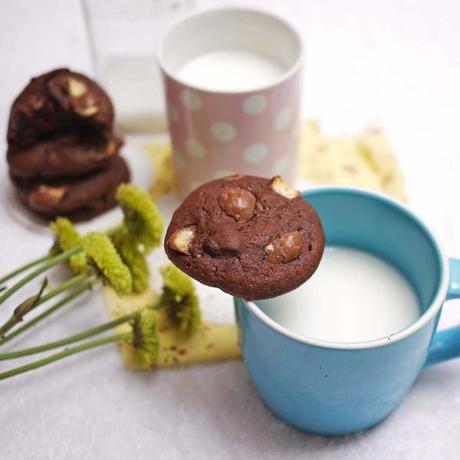 But you know the thing with malt powder and humidity? They don't react too well with each other. They form these lumpy nuggets after a while.
I guess i could have fixed it with a tight, air and water-proof cannister. But i just didn't have spare empty ones hanging around. So please bear with me as i try to use up my box of Ovaltine.
So anyways, today's menu is Chocolate Malted Whooper Drops.
That's a long name, but i am sure you can figure it out.
A drop cookie with malt and cocoa powder,
and topped with chocolate chunks and whoopers.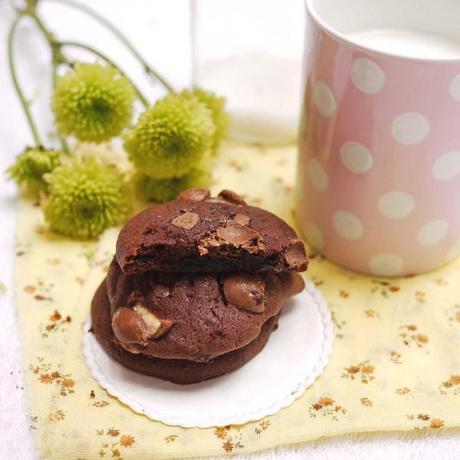 Oh, and cocoa and malt powder?
They work! They impart such a wonderful smoky, rich flavour in these cookies. I am tempted to introduce malt and chocolate as the next dynamic duo, right next to peanut butter and chocolate.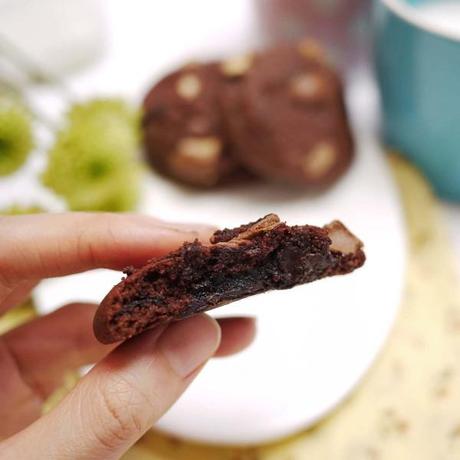 I would describe these cookies as cakey, but since they are generously horded with an army of big, boxy chocolate chunks, it's inevitable that each bite was accompanied by something moist and fudgy.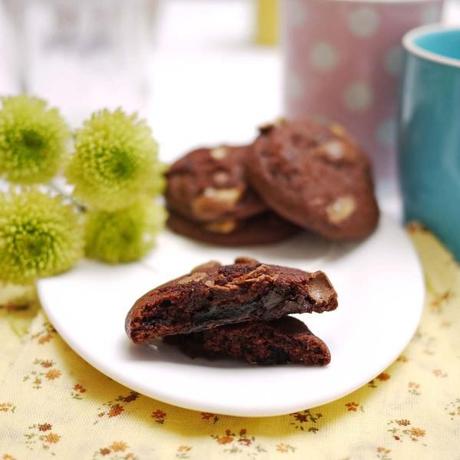 Who can resist to that?
My mind subconsciously reached for them as i was trying to take pictures. I think i must have eaten at least, 3, or maybe 5 or 6, cause at the end of the photoshoot, i was feeling uncannily full.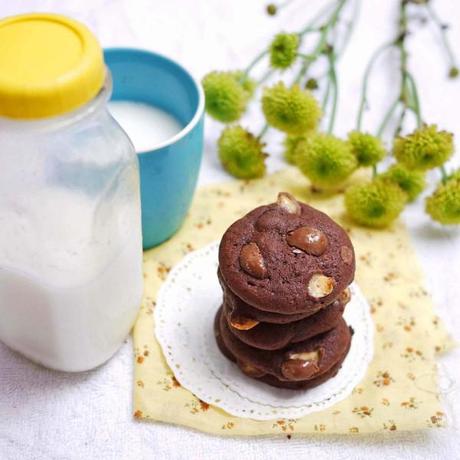 i have also planted my chopped malted milk balls onto each individual unbaked cookie dough drops, instead of mixing them into the cookie batter. Combining them into the batter makes them disappear, and i think i much prefer them to be visible.
Chocolate Malted Whopper Drops
(Taken from Sweet Pea's Kitchen)
Ingredients:
1 3/4 cup all-purpose flour
1 cup malted milk powder
1/4 cup unsweetened cocoa powder
1 1/2 tsp baking powder
1/4 teaspoon salt
1 stick plus 3 tbsp butter (11 tablespoons), at room temperature
2/3 cup granulated sugar
2 large eggs
1 tsp vanilla extract
1/4 cup whole milk
2 cups (6 ounces) Whoppers, coarsely chopped
6 oz. bittersweet chocolate, coarsely chopped
Directions:
Preheat oven to 350°F. Line 2 baking sheets with parchment paper or silicone mats.
In a large bowl, sift together flour, malted milk powder, cocoa, baking powder, and salt; set aside.
In the bowl of a stand mixer fitted with the paddle attachment, beat the butter and sugar together on medium speed for about 3 minutes, until thoroughly combined. Add the eggs one at a time, beating for 1 minute after each addition. Beat in the vanilla until combined. Add half of the dry ingredients and beat at low speed just until combined. Mix in the milk, then the remaining dry ingredients, mixing until just combined. With the mixer on low, mix in the malted milk balls and chopped chocolate.
Drop the dough by rounded tablespoonfuls on to the sheets, leaving about 2 inches of space between each. Bake for 11 to 13 minutes, rotating the baking sheets front to back and top to bottom halfway through the baking time. Let the cookies rest for 2 minutes before using a wide metal spatula to transfer them to the racks to cool to room temperature.