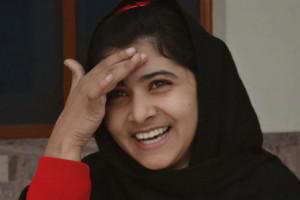 Malala Yousafzai successfully operated but still unconscious
The bullet that had pierced into the head of Malala Yousafzai in a Taliban attack has been successfully taken out by the doctors of Combined Military Hospital Peshawar on Wednesday morning but she still remains unconscious.
The great news was announced by Surgeon Professor Dr. Mumtaz while speaking to Geo News. He told that the operation of Malala Yousafzai was conducted from 2.00 A.M to 5.00 A.M during which the bullet that had come to her shoulder while traveling from the head was successfully extracted
He said that the condition of 14-year-old iconic child activist is expected to improve but for now she is still unconscious.
On the other hand, a meeting of the medical board to decide whether she should be taken abroad for further treatment or not is continued and a decision is expected in the next two hours.
Malala Yousafzai was critically injured in a Taliban attack on Tuesday when she was on her way from her school in Mengroa. Two breaded men stopped her bus and opened fire on her and two other girls. Trio girls were immanently rushed to the District Headquarter Hospital in Saidu
She earned the global eminence for her for her work to promote the schooling of girls in her hometown Swat during the annexation of Taliban over the Valley.
Malala Yousafzai was just 11 when she wrote a diary about the treacherous situation of Swat during the military operation. In the diary, which she kept for the BBC's Urdu service under a pen name, she unveiled the atrocities committed by the Taliban. Her identity surfaced just after the Taliban were hound out of the Valley.
Thanks to her brave and exceptional services for peace in Swat Malala Yousafzai was nominated for an international children's peace award.  In December last year she was presented the first National Peace Award by the Pakistani government.
Millions of people not only from Pakistan but all over the world are praying for the early recovery of the brave daughter of nation Malala Yousafzai.