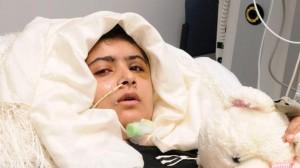 Malala Yousafzai is making good progress
Teen Pakistani peace activist Malala Yousafzai is making good progress in the Queen Elizabeth Hospital Birmingham of United Kingdom.
According to hospital's daily health update regarding Malala Yousafzai, the 15-year-old girl remains in stable condition and continues to recover steadily.
Mian Iftikhar, Information Minister of the Khyber-Pakhtunkhwa, met Malala in the hospital and brought her flowers and cards. He also spoke with medical director of hospital Dr Dave Rosser about her condition.
On Friday, Dr Rosser had said that the brave girl has been able to stand with help and is communicating by writing notes. The same day hospital had also released Malala's first picture in her hospital bed in which she can be seen looking in camera and clutching a teddy bear in her left arm.
Currently she is unable to speak due to breathing tube but once it is removed from her windpipe she is expected to start talking.
Meanwhile, a day of action will be held on November 10 for Malala and the 32million girls across the globe who are not unable to receive the education.
Malala Yousafzai was shot in head by Taliban gunmen in Swat on October 9 when she was on her way from school. Malala was in Birmingham a week ago and has since received myriad benevolence messages.
Malala Yousafzai rose to fame after writing a dairy for BBC about the life in Swat Valley under Taliban. She was honoured with International Children's Peace Prize by Advocacy Group Kids Rights Foundation in 2011.