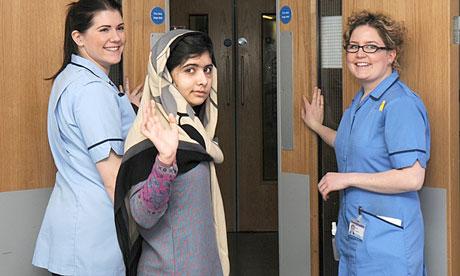 Malala Yousufzai with nurses of the Queen Elizabeth hospital as she is discharged
Malala Yousafzai, the teenage Pakistan schoolgirl who was shot in head by Taliban in October, has been discharged from the Birmingham's Queen Elizabeth Hospital.
The 15-year-old will continue her rehabilitation at her family's temporary home in Britain and will undergo cranial reconstruction surgery later this month or early next month as part of her long-term recovery.
"Malala is a strong young woman and has worked hard with the people caring for her to make excellent progress in her recovery. Following discussions with Malala and her medical team, we decided that she would benefit from being at home with her parents and two brothers," Dave Rosser, medical director at University Hospitals Birmingham NHS foundation trust, said.
"She will return to the hospital as an outpatient and our therapies team will continue to work with her at home to supervise her onward care."
Recently her father Ziauddin Yousafzai, has been appointed as Pakistan's education attache at the Consulate in Birmingham for three years, which means the family will be able to stay in the country for upto five years.
Malala Yousafzai was critically injured in a Taliban attack on October 9 when she was on her way from her school in Mengroa. Two breaded men stopped her bus and opened fire on her and two other girls.
Malala Yousafzai earned the global eminence for her for her work to promote the schooling of girls in her hometown Swat during the Taliban oppression in the Valley three years ago.
Malala Yousafzai was just 11 when she wrote a diary about the treacherous situation of Swat during the military operation. In the diary, which she kept for the BBC's Urdu service under a pen name, she unveiled the atrocities committed by the Taliban. Her identity surfaced just after the Taliban were hound out of the Valley.