malai paneer recipe with step by step pictures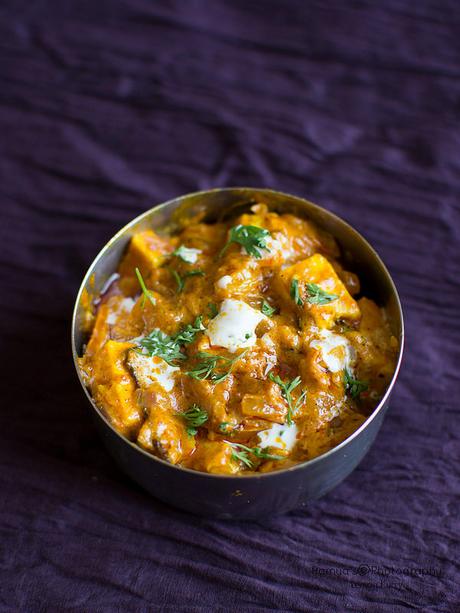 malai paneer recipe - cottage cheese or paneer cooked with cream and spices, is really a wonderful recipe which is a quick one too and after long time am posting a paneer recipe here.this one has same procedure like paneer butter masala but there is some difference like ingredients and little alteration in method of making the recipe.this is one of the quickest paneer recipe like tawa paneer masala recipe i made and this is first paneer recipe i made during college days.check out other paneer recipes which i already shared here!
That raining day, i prepared this recipe with a help of a tv show( i forgot that show) and made it and gave it to all family members with fresh homemade paneer.I prepared a single serving ie., a cup,though that was a little proportion ,all appreciated me that the recipe came out so good and there came my interest in cooking.Till that day,i cook when Amma asked me to do or i cook only i interested on that day.My college vacation really help me to find out more and more new ingredients and recipes for me and now i am recalling those days and sharing with you.From that i recreated the recipe more and more times as V is the big fan of paneer.This is my own version and this does not need any more spices to make it spicy as the recipe is on little low spice level.So i recommend this recipe to all of you as this recipe does not fail and am sure everyone enjoys this one.Serve this with flatbreads like chapati/phulka,parathas and also steamed rice too.lets move on making the recipe.,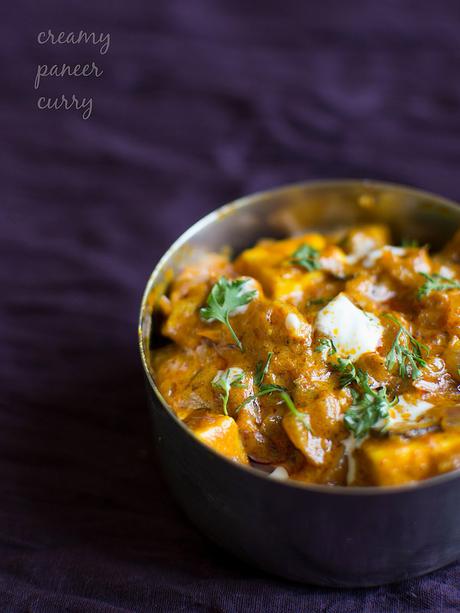 coming to the photography part, i again used the purple colored fabric for the background and it goes well with this recipe.I used stainless steel bowl and the lighting is too good that time but little cloudy and that is what i want for the shot.Here too i tried the overhead or top view photography and the 4th picture is that one and little close up shot one. I did not use any background pops or any accompaniments with that and i want as simple as it is to highlight the recipe.And also i did not have time to organize everything in the table and shot because am in hurry in packing that day.As usual ,the lighting is from right side and i blocked the light in background with a cardboard little far from the subject,so you can able to enough light surrounds it.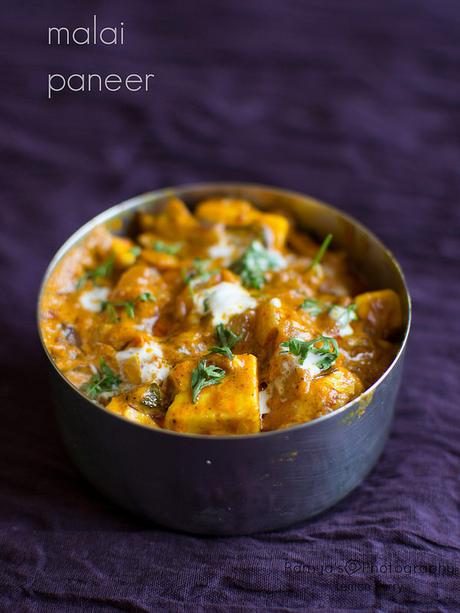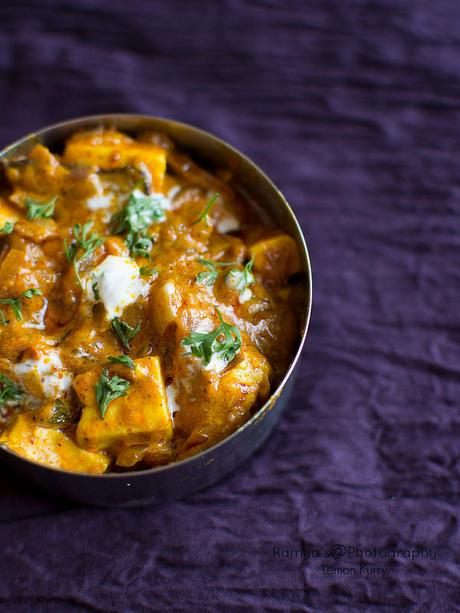 malai paneer recipe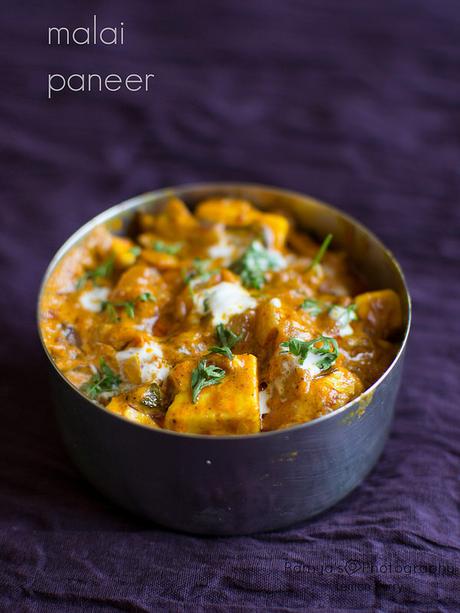 indian cottage cheese cooked in a creamy sauce

paneer,cubed - 1 cup
onion - 1 finely chopped
tomato - 1 finely hcopped
ginger garlic paste - 1 teaspoon
turmeric powder - 1/4 teaspoon
red chilli powder - 1/2 teaspoon
coriander powder -1/2 teaspoon
fresh cream - 1/4 cup
kasuri methi - 1 teaspoon
salt - taste
oil- as needed
bay leaf -1
cinnamon stick - 1/2 inch
cloves - 2
cardamom pods - 2
coriander leaves - for garnishing
Instructions
Heat oil in a kadai and add bay leaf,cinnamon stick,cloves and cardamom pods to it.once it splutters,add finely chopped onions to it and cook till it get soft.


After the onion get done,add ginger garlic paste and saute it till the raw smell leaves.
then add finely chopped tomatoes to it and cook it till it get mushy.dont add water till the tomatoes cooks well.


Then add turmeric powder,red chilli powder and coriander powder and enough salt to it and mix it well.
add little water and cook till oil separates and this will takes 3 to 4 minutes.


Then add the cubed paneer pieces and give a quick mix.Switch the flame to low and add cream to it and stir it without letting it to split.
Finally add kasuri methi and give a quick mix.Cover it with a lid and cook for a minute and then switch off the flame.garnish with chopped coriander leaves.
serve piping hot with Indian flat breads and steamed rice.