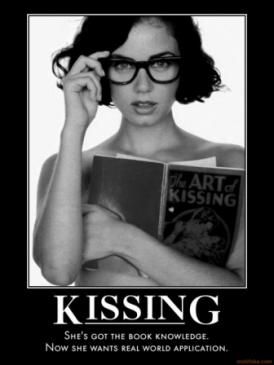 One would think that after several months of serious flirting, I wouldn't have been surprised when Viper kissed me for the first time. I mean he had been bringing me sugary treats for a month, we had two super-secret-early-morning breakfast dates before school, and he had already been to my apartment once (but that was completely G rated. We sat on my couch and talked for an hour. Whoop-de-doo). So when he finally kissed me, the first thought that ran through my head was, "Holy crap, what the hell is going on?!?!" But don't worry, I didn't embarrass myself. I hope.
Quick question: have you read my post, Luck of the Irish? Well, this post is about the hours leading up to my horrible first date. In retrospect, I probably would have been more traumatized with that experience had I not seen Viper first, but luckily I managed to squeeze in time for Viper between The Ex's brother picking up the TV and my date with Mark. The Brother left, and about three minutes later Viper arrived. I swear the God of the Newly-Single was smiling down on me at that moment.
Making Out is WAY Underrated
Since I had bought a new TV to replace the old one, Viper helped me set it up in my living room. I hugged him as a thank-you, but instead of letting go immediately after the hug, he kept his hands around my waist. We smiled at each other for a minute before he made his move. He wasn't tentative about it either. He just went in for the kill, which is probably part of the reason I was so surprised. I didn't see it coming. It was also the first time I had kissed someone post-breakup while completely sober.
Somehow we ended up against a wall, and he held my arms above my head with one hand and ran his other hand up and down my torso while he kissed me. Guys, if you are reading this, you need to do this. There is just something about having a wall pressing into your back and a man pressing into your front…damn. I had never been kissed like that before.
We continued in that fashion for some time. I believe we also utilized my couch which is really a love seat, and I do recall quite a bit of time spent pushed up against my front door, which is where Viper's lips discovered my bellybutton ring. He continued to explore my anatomy with his mouth, but considering it was the end of the day and I had not planned on a hot and heavy make out session, I kept my shorts on.
All good things must come to an end, and I did have a date to get ready for. In all honesty I would have cancelled it, but Viper had to leave too. He lives in a small town about an hour away and he still had some shopping to do, which is why he was in the area in the first place.
Round Two
I guess his shopping list was a short one, because he sent me a text about twenty minutes later asking what I was wearing. I replied that I was wearing only water and a smile, since I had just gotten out of the shower. He asked me if I would answer the door like that. I didn't reply. He came over anyway.
I answered the door fully dressed and made-up, but my hair was still wet. Did you know that bed sheets do a GREAT job of drying wet hair? And since I just got out of the shower, Viper's lips got to explore much more than just my belly button ring.
Oh, and I was fifteen minutes late for my date. Totally worth it.