Silk was launched in 1996 and has become North America's best selling soy milk brand. Since they were founded, they have been promoting the healthy benefits of natural soy foods while doing business in a way that helps support communities and the planet.
Silk Canada would like to spread the word about their new environmental initiative, so have asked us to share this info with the Environment Green readers like yourself, who can all make a big difference with a simple pledge and a few clicks.
Did you know that buying a carton of Silk instead of regular milk helps reduce your carbon footprint? Silk generates 49% fewer greenhouse gas emissions and uses 76% less water than dairy milk. To do even more for the environment they have partnered with Tree Canada to help them plant more trees!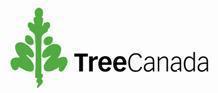 Tree Canada is a Canadian organization that helps replant trees, increase environmental education and helps take care of our forests while reducing the harmful effects of CO2 emissions [www.TreeCanada.ca].
Making a Simple Pledge in turn Helps Plant Trees
To help inspire Canadians to join this great initiative, reduce carbon footprints and help increase the number of trees that get planted, Silk Canada has created a Carbon Calculator on Facebook that:
Asks Canadians to make a pledge to help reduce their carbon footprint by choosing 1 of 7 options, such as avoid buying bottled water
Calculates the environmental impact that each pledge will make.
And the best part is that for every pledge, Silk Canada will donate an additional dollar to Tree Canada to help have more trees planted.
Therefore, by surfing on over to the Silk Canada Carbon Calculator and making a simple pledge, you will in turn be helping the environment in more then one way.
Make a Pledge Today – We Did!