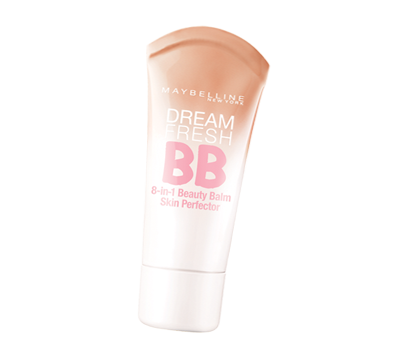 Maybelline Dream Fresh BB Cream ($7.44)
 Description: 
The 1-step wonder for a good skin day, everyday. Packed with 8 great skin benefits for instant skin perfection. Ideal for Normal Skin.
What You'll love?
BB creams combine skincare + makeup in 1 simple step
8-in-1 Skin Perfector:
• Blurs imperfections
• Brightens
• Evens skin tone
• Smoothes
• Hydrates
• Enhances
• Protects with SPF 30
• 0% oils and heavy ingredients
Availability:
U.S.
- Another BB Cream by Maybelline. This may be just a matter of time and it might be available in India too.  Are you excited? (Read SSU Review on Maybelline BB Cream)
-  What is one thing that you missed in Indian version of Maybelline BB Cream that you would expect from this one? (I found the  Maybelline BB a little drying and I really hope for it be more hydrating. )
❤
Comment
❤Follow via GFC
❤Subscribe for Posts Update
❤
=====================================================
Disclaimer:
For any queries, PR information, website review, store visit and events - please mail me at
shoppingstyleandus@gmail.com
. Read about Shopping, Style and Us and to know more, please read my
Disclosure Policy
.
Jiya (Shoppingaholic)