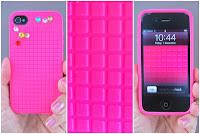 It's no secret that many of us have been enticed over to the realm of the smart phone... those of us who do own one, probably also own a phone cover.  They come in a variety of shades and textures, patterns and decorations, and it seems almost as if no two are alike.  My husband bought me a bright pink version, (perhaps so I would't misplace it), and my girls have covered it with stick on gems to further individualize it.  Phones are so much an extension of our lives, and ourselves, that it makes sense to make them you-nique so that everyone else can judge us by our covers!
While looking at my 'standard' phone wallpaper I had an idea - why not make the inside of my phone match the outside!
Here's what to do:
Take the cover off your smart phone.
Photograph it.
View the image and hit the option button that lets you 'set as wallpaper'.
(The phone will probably crop it and place a shaded overlay on the edges of the image, so it won't exactly match - but the idea is there!)
There you have it - your phone's beauty is now on the inside and the outside!
It's that simple!
Enjoy,
Linda.