I am a sucker for online shopping. It's just so easy to buy things with a click of a button. I keep shopping, putting things in the basket, and I then I think "Be sensible Claudia" and then I close the pages. I have a huge ridiculously long wish list of make-up products that I have been lusting over for....forever! So I thought i'd share my pain of wants but can't have with you! :)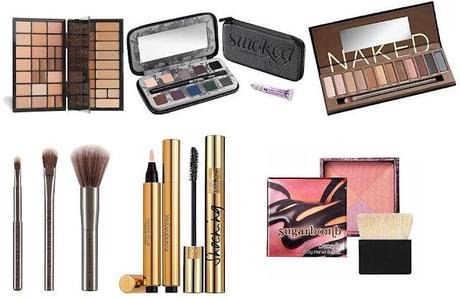 Top row L-R:
Bobbi Brown's BBU Face Palette ~ Ever since I saw this on a YouTube video, I have been obsessing over it. Every single color concealer and corrector you could ever need! What more could you want! £185.00 that's what! A lil (did you get the hint of sarcasm) over my price range but totally worth the money for when I can add it to my professional kit. Love love love ♥.
Urban Decay Smoked Palette ~
 I swatched this palette in my local Debenhams (Yay to their re-fit because they added Urban Decay!!) yesterday and I loved it. When I first heard about it, I thought it didn't really look anything special and moved on. I still don't like the packaging. I think it could've been made a lot smaller and functional. However after swatching it, the colours are so gorgeous! As we all know, Urban Decay's shadows are extremely pigmented and they just came out beautifully. It also comes with quite a large booklet about how to use the colours to create different looks, a black and very creamy eye liner pencil and a mini primer potion. So for £35.00, it's not too bad considering everything you get.
Urban Decay Naked Palette Original ~
 I have the 2nd one and do I really need the original? As my mom said, "What's the difference?" The answer to my question is YES! It's another set of gorgeous velvety eye shadows in a pretty palette....Do I really need both? Would you buy both or do you own both? Let me know in the comments below so I can decide. This palette retails at £35.00.
Bottom row L-R:
Another 3 Urban Decay products, I am on a roll: The 
UD Good Karma retractable lip brush £13.50,
 UD Good Karma blending brush £17.50 and the 
UD Good Karma powder brush
£24.50. I think all the prices of their brushes are reasonable. They are so soft and even though I only have one double ended eye shadow brush from the Naked 2 palette, I sometimes use it more than my MAC ones. I'd love to get more from their brush range.
YSL Touche Eclat ~ It's one of YSL's best selling products. A lovely under eye concealer that's supposed to brighten the area. It just looks classy and sleek and I want it in my make-up bag. But at £25.00 a stick, I'll have to keep wanting I think.
YSL Shocking mascara ~ I've heard a lot about this mascara. It's one of the items that most blogger's/vloggers want and rave about, and I want to join in with that raving! The brush does look really good, but the wand looks really long. Saying that, I am getting used to my CK one color mascara now that I was struggling with. Anyway, this is £23.00. Pricey to me. I don't have that kinda money to spend on one product...actually I probably do, just not one that looks so small. 
Benefit Sugarbomb blusher ~ I love Benefit and I love blusher. Enough said, I need it in my life, and my bag. £23.50....I'll wait for a Debenhams beauty award and get £5 off. I know I know, crafty ;-)
So that's it for my make-up must have's! Have you got any products that you're dying to buy or just keep mooching over? If you've used any of these products, let me know what you think so I can decide please!
Have a great day everyone!