I just got these in the mail thanks to Make Beauty and i can't wait to try them out.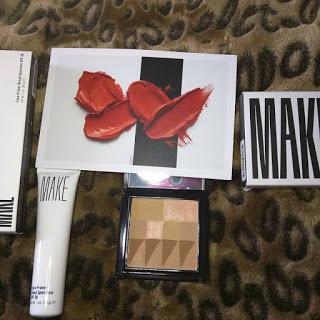 First lets talk about Make Beauty-- They believe that there are no beauty rules. That all individuals are driven by an artistic approach to their own personal reality. That its beautiful to be inspired by your imagination. To embrace a whimsical approach to life. To be outspoken intelligent, confident and un self conscious.  Make also encourages creative self expression as individuals everywhere color their world. The line is designed for personal experimentation with rich formulations and rare palettes in an unconstrained range of colors, finishes and textures. Our beauty products are professionally formulated yet user friendly and can be layered to give as much or as little impact as you desire- whether your look is perfect no makeup makeup, modern minimal alongside a more pigmented finish or one entirely of your imagination.
Make is made in New York City. Its paraben free and never tested on animals. 10% of every Make Purchase is donated to our non profit partner We See Beauty Foundation, supporting women- led, worker owned cooperative businesses across the americas
Make Beauty
   Use the Discount code "MAKEBEAUTY25" for 25% off the entire site but hurry cause this only goes until 8/15/16
Here is what i got
Solstice Bronzer-- This light textured bronzer impacts the perfect tanned glow to create an even, enhanced skin tone or a sun kissed radiance. Four shades merge in a contemporary folk, geometric design to achieve a natural, bronze effect that adds warmth and glow to every complexion.
Face primer Broad Spectrum spf 30-- Even skin and prep the face for optimal foundation application with this nourishing, corrective base. Radiance- enhancing microspheres mimic a flawless complexion and spf 30 protects from UV damage.
GO and use this discount code and pick something up today.