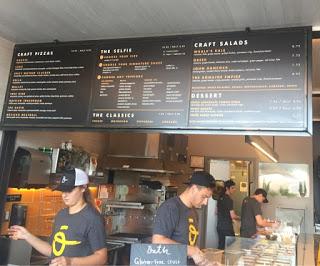 The next time you are in Chestnut Hill, the Boston suburb, you must take this oath to head to Oath Craft Pizza.  
Their oath: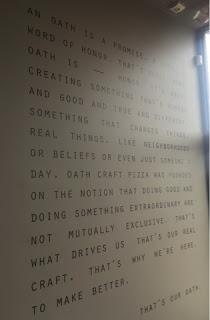 "An oath is a promise.  A bond.  A word of honor.  That's really what an oath it - honor.  It's about creating something that's honest and good and true and different.  Something that changes things.  Real things. Like neighborhoods or beliefs or even just someone's day. Oath Craft Pizza was founded on the notion that doing good and doing something extraordinary are not mutually exclusive.  That's what drives us.  That's our real craft.  That's why we're here.  To make better.   That's our oath."
So what's this doing on a vegan blog?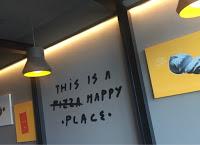 A) The crust is vegan.  It's thin and crisp and super delish, and you can get a full personal size pizza or a half.
B) They have v
egan toppings galore!  This list is proof it's a happy place...
roasted potatoroasted or plain cherry tomatoroasted garlicbalsamic drizzlebasilpineappletruffle sauceroasted portabellobaby spinachrose pickled or plain red onionscallionkalamata olivejalapeno relishsweet red or green pepperC) They offer Daiya vegan cheese (wahoo!)D) They have 5 vegan pizza sauces:vine-ripened tomatotrufflebalsamic glazeclassic bbqsrirachaE) They also have four salads, three of which you could modify to make vegan as well.  Get the pizza.  If only they delivered to New York...