On Saturday night we were heading to
g/r/a/n/d
in Stamford, CT.  On their website it looked like it had a fun menu, a cool space and a dj seemed to have a big crowd dancing the night away.  Their "Little Plates" also had me interested: a mesclun salad with pistachios, crispy shallots and citrus vinaigrette (hold the whipped ricotta), crispy artichoke hearts with fresh made marinara and "made to order" guacamole with yellow and blue corn tortilla chips.  Some of the "side plates" also sounded appealing: truffle fries, sauteed mushrooms, haricot vert, grilled asparagus, sauteed spinach with garlic, crispy onions.
Well, the food might be great, but at 7:30 on a Saturday night, the place was near empty.  Unbeknownst to my friend who suggested it, the dj doesn't even come on til 10 so reservations really start much later than we were there.  We decided not to stick around for dinner and dine alone, but we did stay long enough to try their fabulous drink menu.
I considered the blackberry margarita with tequila, triple sec, fresh limes, chambord, and blackberries and the blueberry mojito with stoli blueberi vodka, mint, lime and lemon lime soda, and also the g/r/a/n/d royale with bubbles, blackberry liquer and lemon twist.  I finally decided on the toasted coconut martini. It was a blend of coconut rum, midori and fresh pineapple topped with toasted shaved coconut.  It tasted like a total college drink (post 21 of course) and, though sweeter than I usually like, I loved it!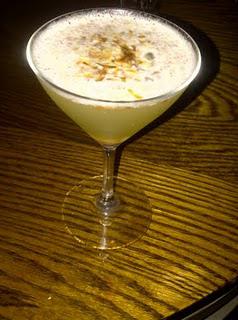 If you're ever in Stamford, on the later side, and looking for a fun night out, check out g/r/a/n/d!