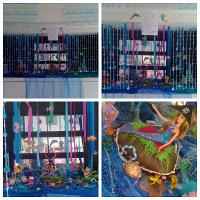 It's no secret that toys are a big part of parties, but here's a whole other way of getting birthday party toys to work for you;
make a diorama
.
If you're wondering "what is a diorama?" - it's essentially
a model of a miniature world
.  The French word originally referred to small scale replicas of scenes.  A modern diorama can be as big as the ones you see at the zoo, such as a model jungle for an orangutan exhibit; medium sized like the replica models of the pyramids being built etc that you might see in a museum, or tiny ones you may have made in a shoe-box for a school project about the universe.
Whilst my example, (you can click on the picture to make it bigger), was created for a pirate-mermaid party, the diorama as a party decoration idea will work for any party theme.
Here's my ideas on
how to make a diorama
;
Select a place that would suit a miniature-world, such as the top of a credenza, the middle of the dinner table, a set of bookshelves, inside a dollhouse, or even the whole corner of the living room.  If small children are invited, keep the diorama out of reach, or ensure that it's robust enough for well-meaning rough and tumble.
Assemble all your toys that suit the party theme, be they clean and dry bath toys, favorite stuffed animals, or dolls with working parts.  Don't worry about suitability in terms of material or scale.
Think of a 'scene' that you could create with the items you have chosen; Mimi and I created an underwater grotto.  Yours could be a jungle hideaway, the surface of the moon, a ballet-stage, inside a circus big top, a miniature fairy garden, the ballroom of a princess' castle and so on.
Look for some larger props that could pull the items together; fabric for draping, beaded curtains, small cushions, cups and bowls, even pot plants.
Lay the items into the space, starting with the largest and working through to the smallest toys, always trying your best to think of the scene you are trying to create.
Add final embellishments, such as pictures cut out of wrapping paper, streamers, shells, jewelry items, or other smaller items to add sparkle and interest. 
For our mermaid decor diorama, Mimi and I chose the 'nook' above the TV cabinet, we grabbed toy mermaids, bath-fish, a pirate boat and a princess-coach as our main toys to use.  We placed blue and green fabric down as the water, added some brown plastic bowls to act as rocks, placed the toys into the scene, making the mermaid the centrepiece (Mimi made her a pirate hat form leftover lock-and-key cardboard and a sticker from the pirate-flag bunting... I'll blog those later!).  Around her we placed seaworthy toys and decorations.  As a last thought, Happy-Husband hung the 2 beaded curtains we used for our wedding, and the look was perfect, and better yet it made a sort of hideaway of the diorama, so that children had to be taken behind the curtains and lifted up to see the mini-world.
As a finishing touch, we place a treasure hunt sign above the diorama to act as a party game for children; 'find 1 red necklace, 2 keys, 3 gem rings, 4 frogs and 5 gold coins'... Mimi wanted to have a go at the game at least fifteen times before the party, insisting I move the items occasionally to make it more challenging!
So there you have it - "the diorama" - being crafty can be fun and educational!