Eyebrow's are an important part of your face, as many of the viral images on the web are now showing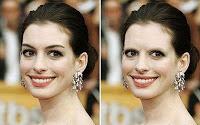 And with some serious eyebrow criminal's roaming the street's lately, thanks to their discovery of eyebrow products (ridiculously dark, thick, blunt or drawn on brows) (I shall not name name's); I thought I should mention my favorite eyebrow savior. 
After searching for a little while for an eyebrow product that was right for me, I walked into a Bare Escentual's store when I was in New York, met a nice lady who gave me a makeover in the middle of Times Square and convinced me to buy my fave eyebrow product - The

Essential Brow Kit

 (I feel so cool saying that). I had BROWSed quite a few eyebrow products in the past, most of them pencil's as that tended to be all there was around, and they were always either too light or too dark and then when I would use the pencil it would create too much of a 'drawn on look' I needed something more subtle and that blends well with my mousy color eyebrows. 
This stuff's great. It works. 
The Brow Kit consists of:
Bare Minerals brow colour

Angled brow brush

Brow finishing gel (saint) 
Price of kit:
$32 (£21.20)
Price of Individual items:
Brow color - $11 (£7.30)
Brow Brush - $12 (£8)
Brow Gel - $14 (£9.30)
Total
- $37 (£24.50)

Method:

1.

  

Tip a little powder into the lid, swirl brush into lid to get into brush, blow off excess and blend into natural brow shape using an upwards and outwards motion.

2.

  

Run finger along eyebrow shape, ensuring even coverage and complete blending. 

3.

  

Finish using the gel, a mascara shaped wand with clear gel. Wipe excess gel from brush comb through eyebrows with same motion and 

voilà!

Why it's good:

1.

  

More natural colours, that blend in with your eyebrows rather than sit on top like some pencil's do. 

2.

  

A lot easier to blend than pencil and the range of shades mean that you are not stuck with black or blonde.

3.

  

The brush is a good quality brush with a handy shape that is great for blending the powder in natural motions, also it's pointed shape means that you can get a create squared or circled shape. 

4.

  

The gel is a godsend - no more smudged or budged brows and bare face by the end of the day, or downward facing hairs.. the gel holds your natural brows in place, as well as the powder.

5.

  

I bought mine in September and it is still half full (or half empty - you choose) and I use it most days. As long as you don't spill it or use a silly amount of it, you'll get a good year out of it! - Making it worth every penny!

Why it's bad:There is not really a lot I can say bad about it other than perhaps..1.   My gel isn't clear any morefrom combing it over my eyebrows, there is no way to prevent this (unless, as suggested by Kingsley - you clean the wand every time before putting it back, but being the tight bugger I am I didn't want to waste any gel) but it's not a problem - at all. It just looks a bit ugly!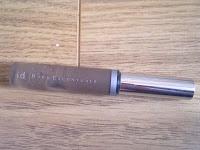 2.

  
The pot of powder is very small (but with plenty in it) which means that can be a bit fiddly and you have to have steady hands to prevent from losing any of the powder.
Bare Escentuals are great and in particular Bare Minerals as my skin is quite sensitive and their stuff isn't too chemical-y and harsh and they have a great range of products. 
Basically I love this, and it's one I will continue to use anon!