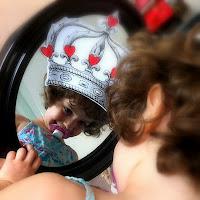 It's no secret that little girls love the idea of being princesses for a day.  I remember my 4 year old saying; "I'd love to be a princess, just playing all day, while everyone else has to slave around doing everything for me."  I had to bite my lip, as I was just a tad too tempted to say; "how's that different to any other day of your life so far as a child?!?"
Anyway.  After reading a bedtime story one night, I decided to make a magic princess gazing mirror so my daughters could ask; 'mirror, mirror, on the wall; who's the fairest toddler of them all?'
Using a vintage crown graphic I found on the Graphics Fairy website, I added some red love hearts (I did this digitally, but you could do it with stickers on a print-out, adding any design you like).  The crown was then temporary-tacked to the mirror, and the girls took turns admiring themselves in their new headgear.  Sure, I could of also stuck a cardboard strip across the back of the crown and turned it into a costume hat... and I may just do that... but there was something fun about being 'normal' one moment, and 'regal' the next.
It's the simplest thing you can do to create a princess moment, but there are plenty of other ideas in the Princess Party Source Book ; simply download, print the templates you like, as many as you need, and use them any how you like; simple, fast, easy - yay!