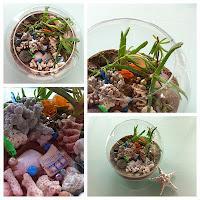 It's no secret that for my daughter's mermaid party last year I made a mini fish bowl table decoration (scroll down in the gallery to see it).  Well, as I'm a big believer in recycling all things crafty, I recently turned this small pretend-aquarium  it into a larger terrarium with succulent plants.
Inspired by a wonderful book "Terrarium Craft" (the link takes you to the book's page and includes a video on how to make a terraium) I filled a larger bubble-bowl with sand, then included some succulents, and repotted, if you like, the dried coral, shells and fish-swizzle-sticks from the party decoration.  I also added a few beads to act as bubbles, and did my best to make the bowl encapsulate the beachside.
From some angles the contents appear underwater with fish swimming past the glass, and from others it seems as though you're upon the tideline and a wave has washed ashore treasures to collect.  It's still very much a work in progress, but thanks to my friend at Twinkles, Tutorials and Twirls whose post on Beachside Treasure Hunting reminded me to blog this craft project!
I think I'll go make another one; I already have an idea to turn the smaller bubble-bowl into a mini fairy garden with some flowering native violet, a quartz stone, some magic-sparkles and of course a fairy!  Ohhh... I think I feel a new craft addiction coming on!