Being a mommy is a HUGE blessing in my life. Those who knew my stories of conceiving a child will know that it took me 7 years to finally to become a mommy to my eldest daughter. And now, I'm pregnant with my second girl. All that happened because the grace of God! I can't wait for my eldest to meet her baby sister. What beautiful blessings to have little girls! 
To create this layout, I always go thru the products to find inspiration. I will take some time to let the products to "speak" to me. When I saw the green striped + happy moment patterned papers, I instantly knew that it will work well with the floral ephemera. (I just can't enough of those! I think I need a warehouse of them lol.) Then, I begin to pick up the rest of the embellishments that matched with the paper & floral. With just a little organisation or following a system each time, trust me... you will save a lot of time on your layout/project especially when you have limited time in a day! Most importantly, just enjoy the creative process. There is no right or wrong!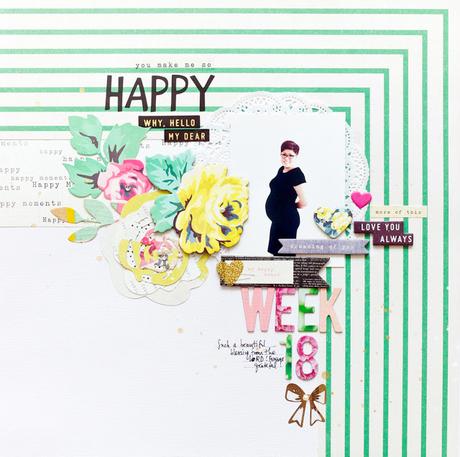 Maggie's layered floral metal die-cut from the Confetti collection is still my all-time fav! That die is so versatile. You can use it on so many kinds of handmade paper crafts!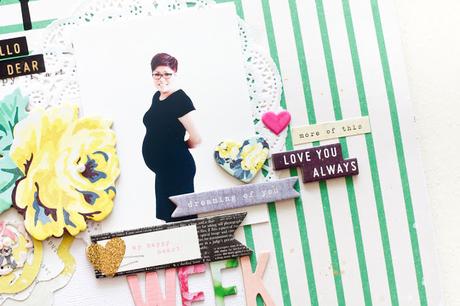 Layering chipboards side by side onto the layout sure give a fun look to your layout too!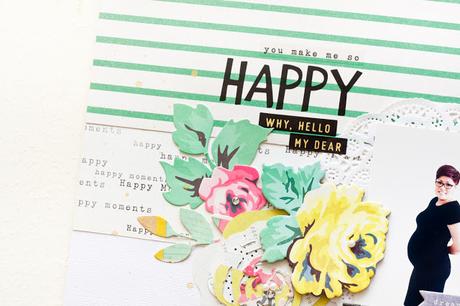 Thank you once again for stopping by and take a peek at my layout! Have a great crafting week!
Supplies: Maggie Holmes Bloom 12x12 Patterned Paper - TogetherMaggie Holmes Bloom 12x12 Patterned Paper - MomentsMaggie Holmes Bloom Thickers Petals AlphaMaggie Holmes Bloom 12x12 Chipboard StickersMaggie Holmes Bloom Ephemera PackMaggie Holmes Bloom Foiled Clear Stickers Happy w/GoldMaggie Holmes Bloom 6x12 Accents StickersMaggie Holmes Bloom Grow Phrases & Accents Puffy StickersMaggie Holmes Confetti Flower DiesMaggie Holmes Confetti 6x6 Paper Pad
Xoxo Jessy