I don't always get my creative mojo immediately. At times, I have to sit on my scrapping desk and just play around. Arranging the embellishments or matching papers will somehow spark some kind of creativity. Placing certain products that I would like to work with will definitely help as well. 
As I was going through the Shine collection, I absolutely adore this crosses design. I knew it would be perfect as background. I saw a pack of doilies and I begun to lay them randomly on the paper. I wanted to give a little subtle look to the background, so I spread some gesso onto the paper and the doilies. It looked pleasant too.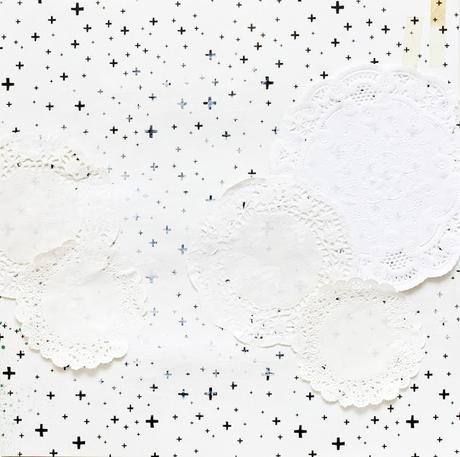 Once the gesso is dried, I adhered the 4"x4" photo of my daughter jumping on the bed and slowly worked my way to the left. As I was layering the chipboard embellishments, I got a light bulb moment. I started to look out for elements that speak about my little gal. I also added encouragement phrases to remind her to be herself or how awesome she is. There are so many awesome beautiful + positive elements in Shine!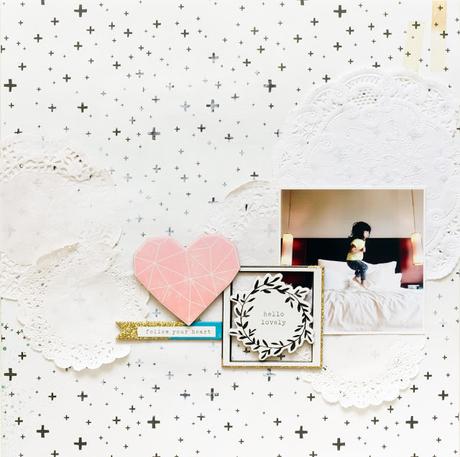 Here is the completed layout & allow me to share with you what are the elements that speak about my little gal.
The #2 represents her age. The butterfly represents her free and easy going spirit. The pink heart speaks a lot about her willingness to share and how kind she is towards people around her. The pink & gold cross speak about her love for church. The wood veneer "Best Day Ever" represents the day she learnt how to jump on bed. And lastly those little stars represent her bright & sparkly personality.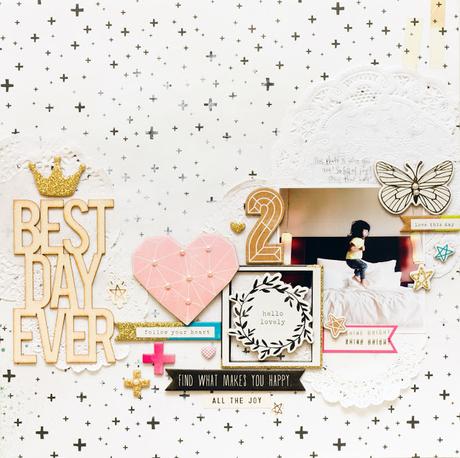 Close-up shots: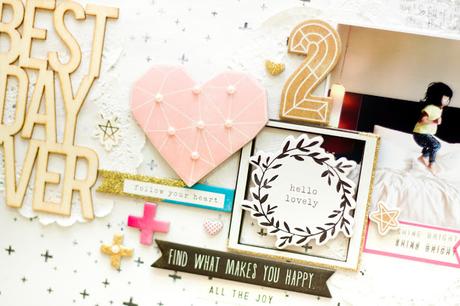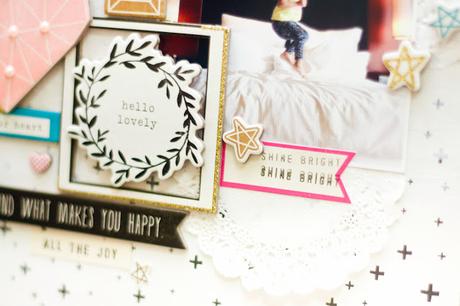 Products:Maggie Holmes Shine 12x12 Patterned Paper - SparkleMaggie Holmes Shine 12x12 Chipboard StickersMaggie Holmes Shine 6x12 Cardstock StickersMaggie Holmes Shine Roller Phrase StampMaggie Holmes Shine Wood Veneer ShapesMaggie Holmes Shine Beautiful Words & Icons Gold Glitter Thickers
GessoWhite doiliesAdhesive pearls
Happy Crafting!Xoxo Jessy