Crafting time is what I always look forward to after I dropped my daughter at school. Those are the perfect time where I can spend my time alone just to express my creativity. And it is very therapeutic. We definitely deserve some time alone doing what we love!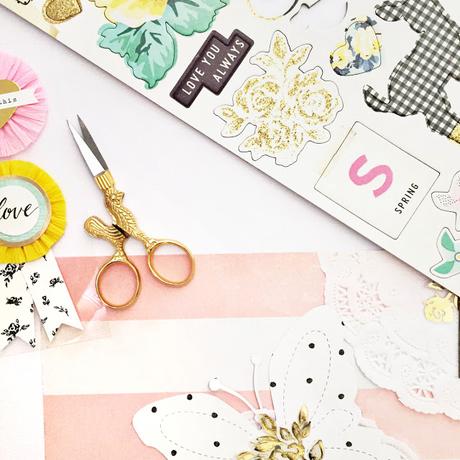 I absolutely adore Bloom collection so much that I decided to use "Bloom & Grow" title as my inspiration. Just couldn't help humming the song Edelweiss as I scrap too. If you are a fan of the Sound of Music, you'll know why. Lol. My daughter is growing so fast for the past 3 years. She has grown so beautifully and full of amazing personalities. For that reason, I wanted to take a moment to remember her at this age. This is what scrapbooking is all about, to remember all these precious memories. 
When I thought of "Bloom & Grow", I just knew that I have to use flowers & butterflies on my layout. These elements are perfect for a feminine-girly layout. I started with fussy-cutting the gold vellum flowers and attached onto the die-cut butterflies. They were perfect for each other. Once I have positioned the butterflies, I added more feminine touch that was to use some doilies. Absolutely love it! I also filled up the rest of my layout with word stickers & chipboard stickers as well. All the elements & embellishments looked so good on a peach-pink background paper! Just perfect!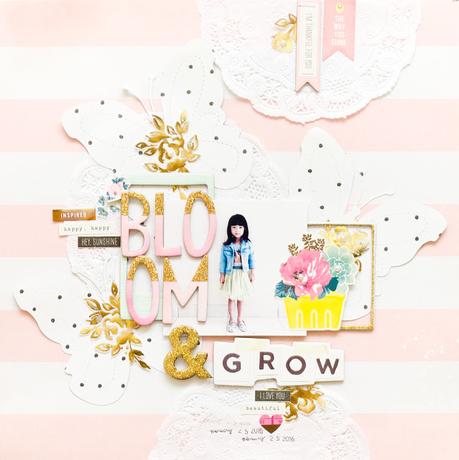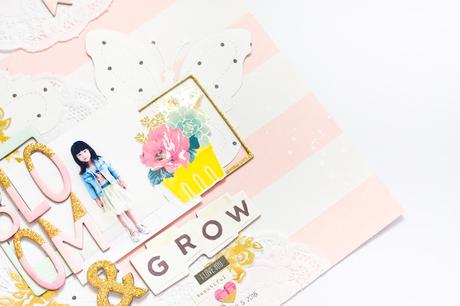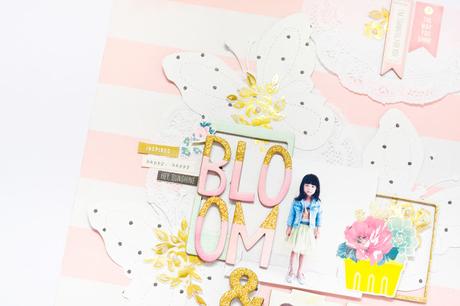 Supplies: Maggie Holmes Bloom 12x12 Chipboard StickersMaggie Holmes Bloom 12x12 Gold Foil Vellum Maggie Holmes Bloom 12x12 patterned paper - RibbonMaggie Holmes Bloom Accent Stickers
Sizzix Butterfly Bigz die - A10120Doilies
Thanks for coming by!Xoxo Jessy