Hello again! It's Jessy here, and I'm here today to share a layout that's focused on photo inspiration. If you are familiar with my scrapping style, you'll know that my photos always inspire me. That's my very primary thing to do as well, to choose my photo first. 
With this photo, my daughter was dressed in stripes & dots. Isn't that a perfect combo? I wanted to use those elements as my inspirations. As I was going through the Bloom collection, I was so happy to see dots & stripes patterned papers. Though it wasn't a black & white stripes, it still worked for me. In fact, the peach striped paper balance up the colors & gave feminine touch as well. My daughter's cardigan has a red flower on it and that's the next inspiration for my embellishments. And of course, I just had to include those beautiful Bloom die-cut flowers on my layout. Just perfect! To give subtler look to the peach striped paper, I decided to use one of my Sizzix floral dies. What a great way to connect the two patterned papers together.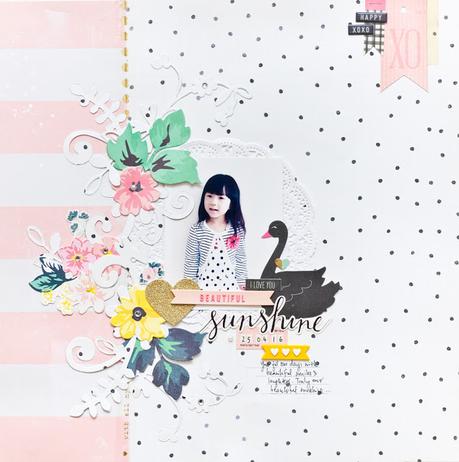 I also used gesso to spread all around the layout to create a whitewashed background. That way you can tone down the background papers.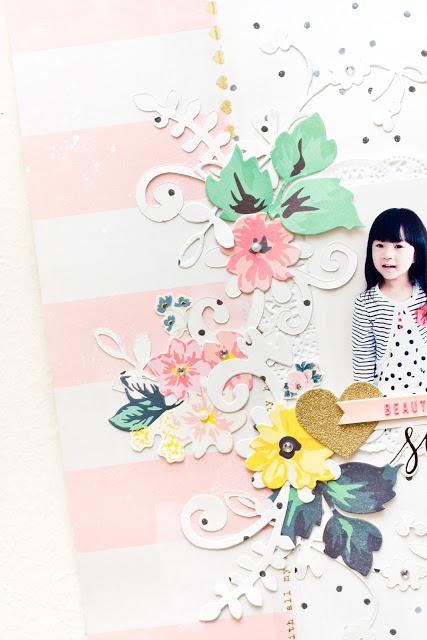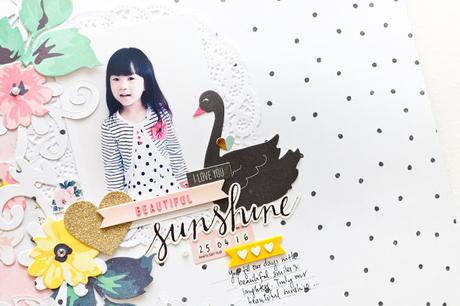 Just with a little creative process thought that will help you in creating a meaningful layout & spark tons of ideas too! 
Supplies:
Maggie Holmes Bloom 12x12 paper - Ribbons 
Maggie Holmes 12x12 paper - Wonderful
Maggie Holmes Rubber Shapes
Maggie Holmes Bloom Cardstock Stickers
Maggie Holmes Bloom Ephemera Die-Cuts
Maggie Holmes Bloom Puffy Stickers
Sizzix Big Shot Plus
Sizzix Bigz Die - Garden Bloom
Sizzix Thinlits Enchanting Blossom 
Have a great week!Xoxo Jessy