I am a huge fan of Madonna.  I must confess to being a bit stuck in the eighties when it comes to music and I admire the way that she has constantly re-invented herself and her music.  I think she looks pretty fantastic for her age as well, but I was a bit dismayed to see her latest get-up at the weekend.  Actually, it was nothing short of ghastly.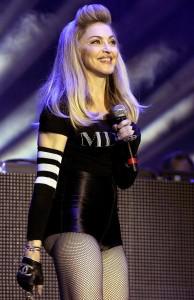 Wearing fishnet tights, too-small satin hotpants and, erm, arm warmers, the 53-year-old Madonna looked like she really needed to sack the stylist.
Don't get me wrong, I am all for people dressing how they want to, but for someone who acts as a role model to millions worldwide, I think she could look so much better.  It's almost like she's in denial about her age.  Her latest video also features her wearing a very risqué outfit, complete with PVC hotpants.
If we were back in the eighties, I wouldn't blink an eyelid at Madonna's attire.  But you can see from the pics that her bum isn't quite what it once was.  On the one hand I do applaud her for not trying to hide her flaws, but on the other…..well I can't help but feel she looks a tad ridiculous.  Sorry, Madge, but I think it's about time we had another re-invention….