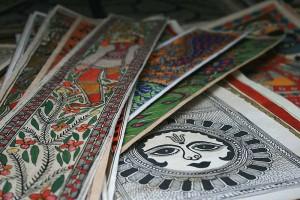 Madhubani paintings are an essential aspect of Indian folk culture. This ancient art form has a rich heritage and significance in the artistic domain of Indian culture. It is also called Mithila Paintings. These paintings hail from the Madhubani village, located in Bihar, and depict scenes from the Ramayana. Traditionally, this art form was practiced by the women folk as an artistic outlet. The Madhubani paintings adorned the walls of homes, in the hopes of pleasing the Gods they believed visited every morning. It was usually painted on mud walls of huts but later branched out to canvas, cloth and hand made paper.
Madhubani paintings and its history
The history of the Madhubani paintings dates back to the Ramayana. It is believed that King Janak insisted that his people paint the walls of their homes and floors to celebrate the wedding of his daughter Sita to Lord Rama. The art that initially began in the humble village of Madhubani, soon reached various other districts such as Rajangarh, Ranti, Jetwarpur, Bacchi and Rasidpur. The paintings are also found on wall hangings, sarees and glass.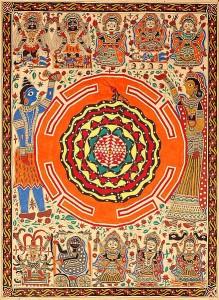 Symbolism of the paintings
The figures featured in Madhubani paintings have a symbolic meaning attached to them and the presence of these symbols enhances the beauty of the paintings. Procreation and fertility is signified by serpents, romance is symbolized by peacocks, and good luck is symbolized by fish. These symbols are extensively used in Madhubani paintings.
Themes of Madhubani paintings
The primary themes of these paintings are Hindu goddesses and gods and generally display conventional geometric forms. Some of the characteristic features of Madhubani paintings are pointy noses and convex shaped eyes, abstract deity figures, bright colors, embellished floral shapes and borders with double lines. To begin Madhubani paintings, the floor were smeared with a combination of mud and cow dung providing a black background. After this, the paintings were drawn with vegetable dyes and rice paste.
Technique of Madhubani paintings
Traditionally, after a background is prepared by a combination of cow dung and mud paste, the work on the paintings begin. One of the features that define Madhubani paintings is the use of bright colors, embellished floral shapes and abstract figures. Vegetable dyes and rice paste are used to color the paintings. With the advent of synthetic colors, artisans have now completely stopped the use of natural dyes. The colors used in Madhubani paintings are flat and require no shading. After the painting has been completed, a final outline is drawn with black paint and left to dry.

Madhubani paintings india nethaat , madhubani paintings online nethaat handmade handicrafts