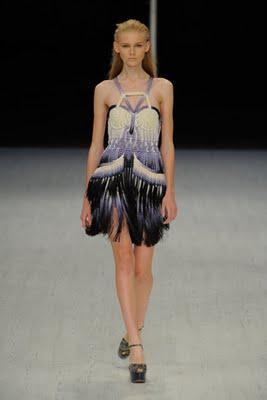 On a visit to New York, I came across the following scene: A woman, old enough to be my grandmother, with a man, young enough to be my boyfriend, if I dated long-lost members of The

Fugees

. Both were dressed head-to-toe in multi-colored crochet-and did I mention they also had a Persian cat? With a crocheted leash, natch. As I was fully absorbing this glorious sight, I realized that the man was glaring at me, like What the hell was I staring at? I love New York.
So it was with fondness that I thought of this memorable little family when I saw crochet and macrame marching down the Spring runways. It should be mentioned that they are slightly different both in appearance and technique; while crochet is done with a hook, macrame uses a knotting method that can be traced back to bored sailors with a lot of rope laying around. Due to the resulting tight configuration, macrame pieces don't have the stretch that crocheted ones will. Whichever your preference,

Shopbop

has rounded up the season's crafty must-haves.
Photo courtesy of Matthew Williamson.