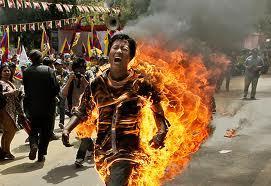 100 self-immolations in protest against Chinese occupation since March 2011
by Mark Morris / ITN
 The NGO Free Tibet has released video it says shows machine guns being used at at anti-mining protest in Tibet.
The amateur footage purports to show the demonstration, which took place in August, before the sound of Chinese authorities firing machine guns can be heard.
The anti-mining protest had been ongoing for several days.
A huge mining operation was about to get underway on a nearby mountain, which is of spiritual significance to Tibetans.
Mining often causes protests in Tibet, as Chinese businesses try to get at the region's unique reserves of natural resources.
The protesters reportedly erected posters of Chinese leader Xi Jinping, quoting a speech he made about protecting the environment.
They also used Chinese flags to make sure the security forces knew they weren't there to campaign for Tibetan nationalism.
The incident comes amid a time of unprecedented protest in Tibet.
Since March 2011, more than 100 people have set themselves on fire in protest against Chinese rule