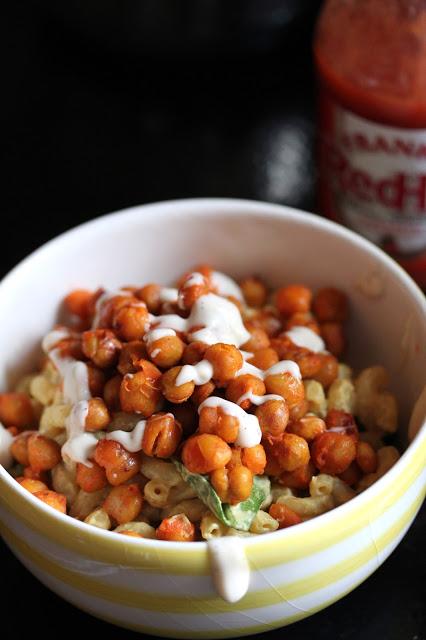 We weren't joking when we said we wanted to try all of the mac and cheeze recipes out there!
This one's a little more dressed up than your regular mac, but doesn't take all that much more time to prepare. Bonus!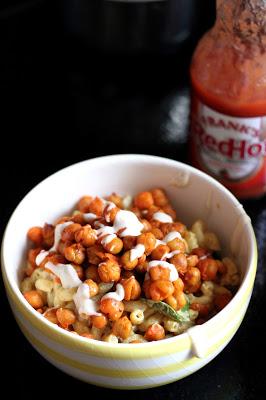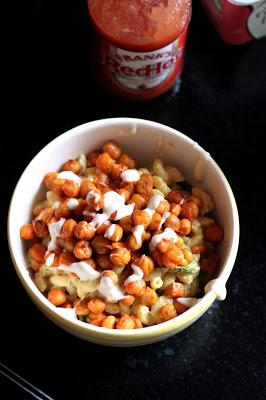 These buffalo chickpeas are possibly the greatest we've ever eaten. You could definitely add them to soups, salads, or have them as a snack. They have the perfect balance of smoky and sweet.
This is one delicious dish and also satisfying, I might add. You'll be adding this to your mac and cheeze repertoire, too.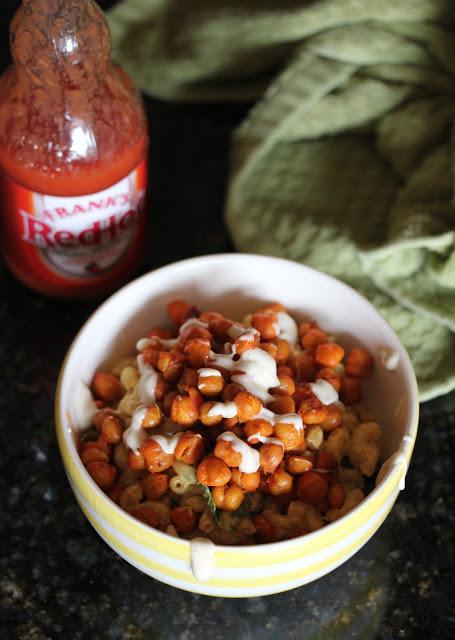 Macaroni and Cheeze with Buffalo ChickpeasAdapted from Vegan Bowl Attack by Jackie Sobon
Ingredients
Roasted Chickpeas1 can of cooked chickpeas, drain and rinse (our can was 28 oz.)1/4 cup buffalo sauce + 2 tbsp (we used Frank's Red Hot with a tbsp of vegan butter melted) 
Cheeze Sauce1 cup raw cashews, soaked in warm water for 30 mins1 cup water1/2 - 3/4 cup nutritional yeast1 tbsp tapioca starch1 tbsp tomato paste1 tbsp apple cider vinegar2 tsp onion powder1 1/2 tsp dijon mustard1 tsp salt1 tsp tumeric
1 package of macaroni pasta or whatever shape floats your boat1 tbsp vegan butter splash or two unsweetened original almond milk, if necessary
For servingRanch dressing, we were lazy and didn't make our own so we used the Daiya Ranch which was perfect for thisSome sort of greens or celery
Instructions
Roasted ChickpeasPreheat oven to 375F. Toss together chickpeas and Frank's until coated. Spread on a baking sheet lined with parchment. Roast for 10-12 minutes then roll around to make sure all sides are crispy and bake for another 12 minutes or so. Put into a bowl and toss with some more Frank's. Set aside.
Macaroni and cheezeCook your pasta according to the instructions on the package, then strain.Place the noodles back in the pot, coat with 1 tbsp of vegan butter and set aside while you make the cheeze sauce.
Drain the cashews and place in a high power blender with the rest of the cheeze sauce ingredients. Blend until completely smooth. Add to a saucepan and heat over medium-low heat until slightly simmering. Stir frequently to avoid clumping. After 3-5 mins the sauce should be thickened. 
Pour the cheeze sauce over the pasta and put the pot over low heat. Add a splash or two of almond milk if it's too thick.
ServingWhen you're ready to serve, toss the romaine (and optional celery) in with the mac 'n' cheese then plate immediately. Place roughly a 1/4 C. of chickpeas on top, then drizzle with a little extra buffalo sauce and a generous drizzling of the ranch sauce.Enjoy!