So.  Many.  Macarons.  I have never made so many macarons.  I have never eaten so many macarons.  I think I may be turning into a macaron – squishy shell melting into a soft creamy centre – sounds just like me.
The macaron mayhem started last week.  Having never made macarons before, I rationally thought I'd go from nought to a hundred and attempt to recreate Pierre Hermé's passion fruit and milk chocolate macaron – this ultimate taste sensation, flavour explosion of a macaron belongs right up there in the macaron elite.  Naturally, an obvious choice for a macaron rookie.
I first had a macaron (and by this I mean a PROPER macaron, not one of those chewy coconut encrusted macaroons that are miles away from the sophistication of a real macaron) in Paris during my university year abroad.  In Paris, they are ubiquitous – the colourful coins pervade every patisserie, varying from a few simple flavours as a side to a wealth of other pastries and cakes, to the famous names that devote entire shops to this one modest almond-based treat.  Ladurée is the name that most people associate with these little French confections, but for a much more exciting and inventive macaron experience, Pierre Hermé is your man.  His Parisian patisseries are stylish, modern and laden with mathematically arranged rows of beautiful bavarois, tarts, cakes, viennoiseries, and, of course, with eye-catchingly tempting macarons.  What sets him apart from the more traditional patisseries is his deliciously different flavour combinations: Pistachio and Morello cherry, Quince and Rose, Olive oil and Mandarin orange, and the Mogador – the tartness and tang of passion fruit effortlessly complimenting the deep, rich chocolate filling; an inspirational combination that lingered in my memory and tastebuds for over a year until finally, with sugar thermometer and piping bag in hand, the temptation overcame me to enter into macaron mayhem and embrace the challenge.
And it was a ROARING success.  Mid-way, at the height of piping, tongue stuck out in concentration as I built up row upon row of sticky, raw macarons, I had a moment of doubt.  But when I saw them all rising through the murky haze of my breath on the window of the oven, it all seemed worth it. Filled with the simple, smooth chocolate ganache, these little mouthfuls of yumminess were just as I remembered them, and in an instant I was transported back to Paris.  Pierre Hermé who? I am the Queen of the Macarons.  I nailed it!  Yeeeeeeeeeesssssssss!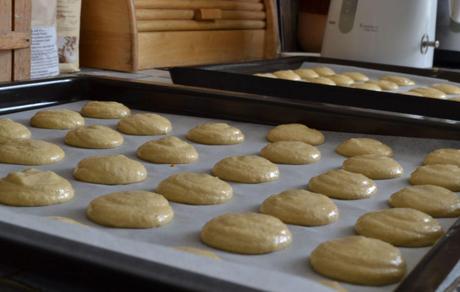 Rows and rows of macarons
Now, the problem with success is that it can go to your head.  And lead to a complete loss of sensible and rational thought and decision making.  Arrogance is not a pretty thing when it comes to cooking – especially when there is a sugar thermometer involved.  Riding off the sensational result of the Macaron Mogador, and probably under the influence of a macaron-induced sugar high, I thought it would be a FANTASTIC idea to make more macarons.  Bear in mind that at this point, I had crumbs all around my mouth and was shouting, 'MORE MACARONS! MORE MACARONS!' like some crazed protester.  And to up the stakes a bit, I thought bringing caramel into the equation would make it that bit more interesting.
However, Pierre Hermé's Salted Caramel Macaron proved to be a tad more unpredictable.  Everything was going fine until….the caramel.  The shells were cooked and waiting – happy sighs all round – and all that was left was the caramel filling.  CARAMEL.  A tricky little bugger.  Along with burning it in the pan, I managed to melt the plastic spatula I was using to stir it which led to a panicked onslaught of recovery tactics – I sieved, yes sieved, the caramel.  Twice.  With decidedly fewer burnt specks and chunks of white plastic, I thought it would just about pass inspection.  The next step was to let it cool before adding it to the butter -  but by this point I'd lost all patience with the flecked caramel and so added it while still warm, promptly splitting the butter.  Disaster number 2.  I was still not ready to give up though and felt an inexplicable desire to save it instead of taking the sensible route of starting all over again.  So, I filled up a bowl with ice cubes and rested the bowl of split butter caramel on top of it and whisked…and whisked…and whisked. Until, by some stroke of magic it all started to come together – as it cooled, the mixture became smoother, shinier, creamier and homogeneous.  The kitchen looked as if a macaron bomb had hit it, and I was completely frazzled by the entire ordeal, but the crisis had somehow been averted and, in the end, they turned out to be absolutely divine!  Queen of the Macarons: 1, Temperamental caramel: 0.  But only just.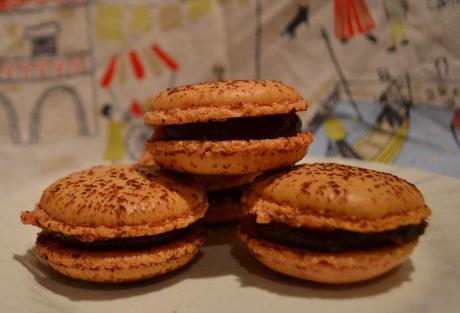 Macaron Mogador
Macaron Mogador
Adapted from Pierre Hermé
Makes 72 macarons
Ingredients
For Macaron Shell
300g ground almonds
300g icing sugar
110g (110 ml) egg whites
5g (1 tsp) yellow food colouring
0.5g (a pinch) red food colouring (or ½ tsp coffee)
For Italian meringue
300g caster sugar – for sugar syrup
75g (75 ml) water – for sugar syrup
110g (110 ml) egg whites
For Ganache
100g room temperature unsalted butter
550g Valrhona Chocolate Jivara (40% cocoa solid) (A good quality milk chocolate will do)
10 passion fruits (need 250g passion fruit juice)
For Garnish
For Macaron Shells
Sift the icing sugar with the ground almonds
Mix the colours with the first egg white and pour over the sieved sugar and ground almonds without mixing
Boil the water and sugar to 118°C (244°F)
Once the syrup is at 115°C (239°F), start whisking the second egg whites to hard peak
Prepare a pastry brush dipped in a bowl of cold water and clean the edges of the pot with the brush so that the sugar syrup won't stick when you pour over the whisked egg white.
As soon as the sugar reaches 118°C (244°F) remove from the heat immediately. Pour the sugar syrup over the stiff egg whites little by little. Continue whisking at high speed.
Whisk and let cool to 50°C (122°F) before adding to the sugar and almond mixture you prepared earlier.
Mix the Italian meringue with the sugar almond mixture until you reach a "lava" consistency
Pipe the mixture into approximately 3.5 cm rounds, spaced about 2 cm apart on baking sheets lined with parchment paper.
Once you have finished piping the macarons, prepare a tablecloth and fold it into four. Tap your baking tray gently on top of the tablecloth.
With a sieve, sprinkle the shells with cocoa powder
Let the macarons rest for at least 30 minutes until it's not sticky when you touch the top of the macaron with your finger
Preheat the oven to 180°C (356°F)
Put the tray into the oven and bake for 9-12 mins (depends on oven) and keep the oven door slightly ajar with a wooden spatula.
Do not remove from the sheet until they are completely cooled
For filling
Cut the butter into pieces. Chop the chocolate with a serrated knife.
Cut the passion fruit in half and scoop out the pulp, putting it into a sieve placed over a bowl.
Mash the passion fruit pulp with the back of a spoon so that the juice runs through the sieve until you have obtained 250g of juice.
Weigh the juice and take it to a boil.
Melt the chopped chocolate in a bain marie (a bowl set over a pan of barely simmering water). Pour the juice onto the hot chocolate in 3 batches.
As soon as the mixture temperature is at 60°C (140°F), gradually stir in the butter pieces. Stir until the ganache is smooth.
Pour into a dish. Cover the ganache with cling film. Keep it in the refrigerator until it is creamy.
Pour the ganache into a pastry bag and pipe onto half of the macaron shells.
Cover them with the other shells.
Keep the macarons for 24 hours in the fridge and remove from the fridge 2 hours before serving (of if you can't wait like me, there's no harm in shovelling in a sneaky few before putting them in the fridge!)