Hey guys today I have a shampoo and moisturizing rinse from Macadamia to review for you.
I've definitely been getting more into my hair care and so I was definitely looking forward to trying some more products from Macadamia and see how they worked with my hair.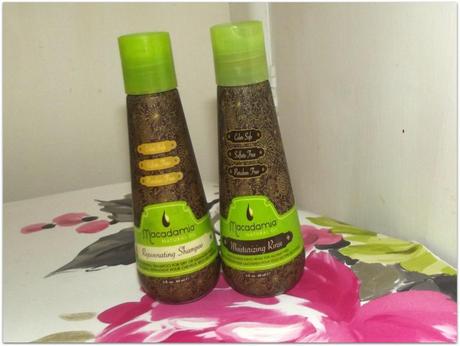 Macadamia Natural Oil Rejuvenating Shampoo £11.47*
Hairtrade.com says: This moisturizing shampoo is for all hair types and is excellent for dry, damaged hair. Gently cleanses the hair while weightlessly replenishing moisture and protecting the hair from environmental elements.
When I first started using this my ends were noticeably dry and in need of something to really soften and liven up my hair. The shampoo really cleans the hair beautifully, and gives just a natural shine after use. My hair feels really light weight afterwards and you only need to use a small amount of shampoo for it to lather up and cover my whole hair. I got a 60ml to try and it lasted me for a reasonable amount of time, especially if not using it everyday.
It is quite pricey for almost £12 for a shampoo that is 300ml but I would say if your hair is in need of a little rejuvenating maybe treat yourself. 
Macadamia Moisturizing Rinse £3.37*
On hairtrade.com it states: Moisturizing Rinse is a luxurious daily conditioner formulated with essential ingredients including our unique infusion of oils designed to nourish and detangle hair, leaving it soft, silky and manageable.
I have found that it really does leave my hair free from tangles, as this is definitely a big issue with my hair being so thick and long, and definitely manageable. I've found my hair is softer and silkier for longer by using the both of them together.
Although it is significantly cheaper than the shampoo at only £3.37, it is only a 60ml bottle. I found myself trying to savour it a bit but as with the shampoo they are definitely worth it if your hair needs a little umpth.
Additionally, how cute are the bottles!
Natalie Roseanne <3
*pr sample