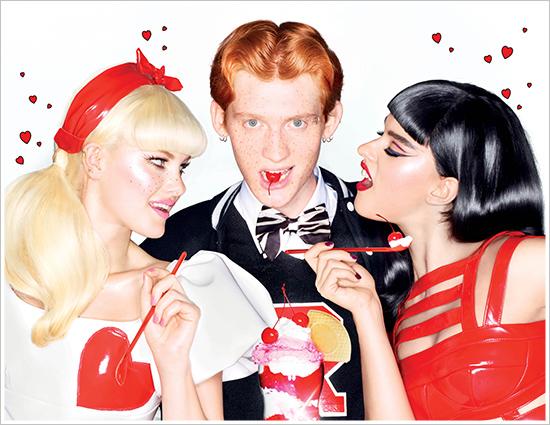 Since I started blogging,
MAC
 In-Store Events have been on the top of my list of events I love to attend. Not only do they make amazing products BUT they put on an amazing "show". If you have been reading
The Fashion Beauty Junkie
, the last
MAC
Event I attended was their
Glamour Daze
Event and I was so blown away!
MAC Archie's Girls 
event wasn't on that high scale, but it definitely didn't disappoint! I got to hang out with one of my favorite makeup artist Becca, met the lovely Jae AND snapped a few pics with Archie. Oh, wait and I bought tons of makeup! As always, I dragged my bff Michelle along with me to be my photographer!
Moving on................................................
The Archie's Girls collection was inspired by the love, Betty and Veronica have for that handsome red head Archie. Maybe a little bit of love and a little bit of rivalry actually. From the moment this collection was announced I knew I had to get my hands on EVERYTHING Veronica related! I am not ashamed to say that I am such a Veronica. If that makes any sense. Both collections are different and related to the their personalities. Betty, being the sweet, down to earth one has more pinks and browns in her collection for everyday use. Veronica being the more, um..... how can I say this? Edgy? Yes, edgy! Veronica being the more edgy one has more purple, blues and deep reds in her collection. 
Check out the collections!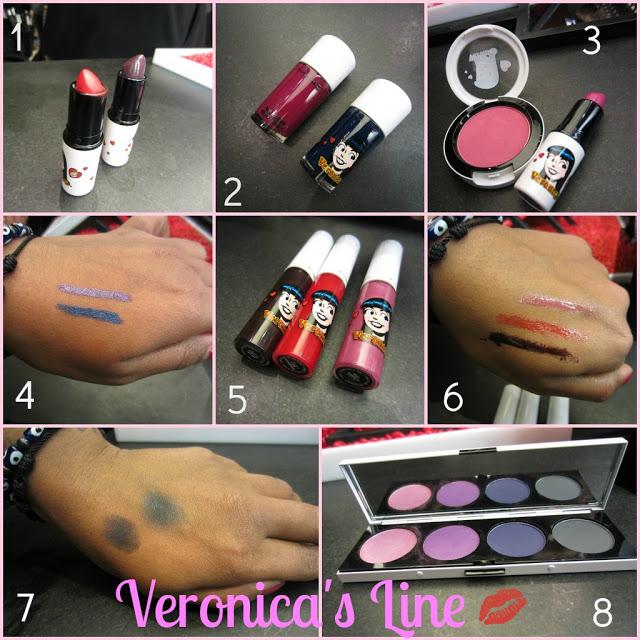 Lipsticks: Left "Ronnie Red" & "Boyfriend Stealer"
Nail Lacquer "Past Curfew" & "Double Trouble"
Blush "Prom Princess" Lipstick "Daddy's Little Girl"
Pearlglide Intense Liner "Designer Purple" & "Petrol Blue"
Lipglasses
Lipglass Swatches "Mall Madness", "Strawberry Malt" & "Feelin So Good"
Veronica Pigment "Magic Spells" & "Black Poodle"
Eye Shadow x4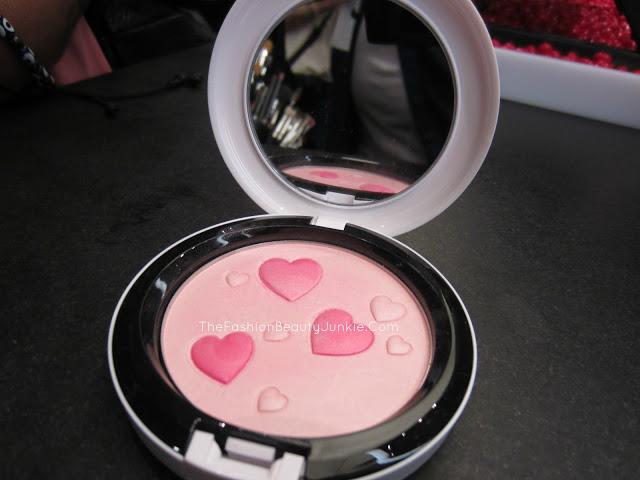 This was one of my FAVORITES from Veronica's Line. Pearlmatte Face Powder called "Veronica's Blush". I mean, how cute right? The color and pigmentation is amazing also! 
Ready For Betty?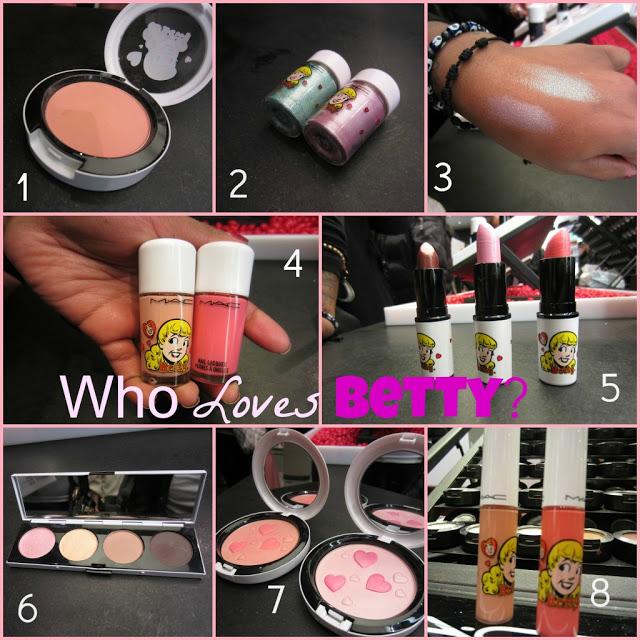 Powder Blush "Cream Soda"
Betty Pigments
Pigment Swatches "Lucky in Love" & "Cheers My Dear"
Nail Lacquer "Pep Pep Pep" & "Cosmic Cute"
Lipsticks "Oh,Oh,Oh", "Girl Next Door" & "Betty Bright"
Eye Shadow x4 "Caramel Sundae
Pearlmatte Face Powder (top) "Flatter Me"
Lipglass "Summer Sweetheart" & "Kiss & Don't Tell"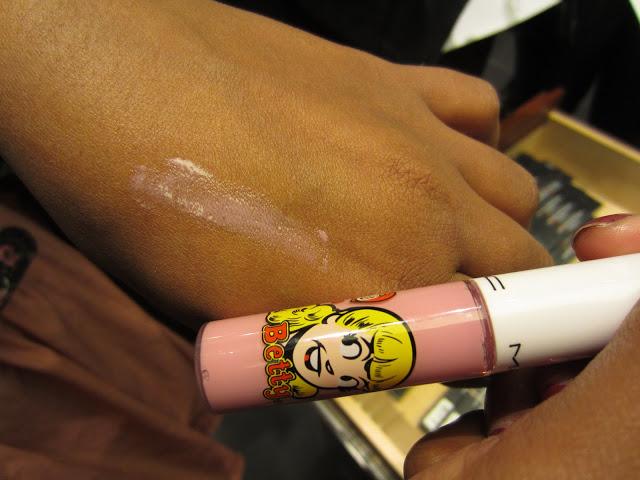 This was my favorite pick from Betty's Lipglasses "Stay Sweet" 

After a few drinks, a lot of product swatching and decision making-I finally settled on a few products. I had the lovely makeup artist Jae, from the Valley Stream MAC Macy's Counter basically make me feel as if I wanted to leave the store with everything. When I say everything, I don't only mean from the Archie's Girls Line. I settled on a few goodies old and new. Stay tuned for my MAC Haul Video coming up on my YouTube Channel! Make sure you are subscribed so you don't miss a thing!
http://YouTube.Com/ThFabJunkie
 Until then........................................................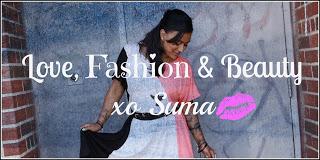 Here are some other highlights from the Roosevelt Field Archie's Girls Launch!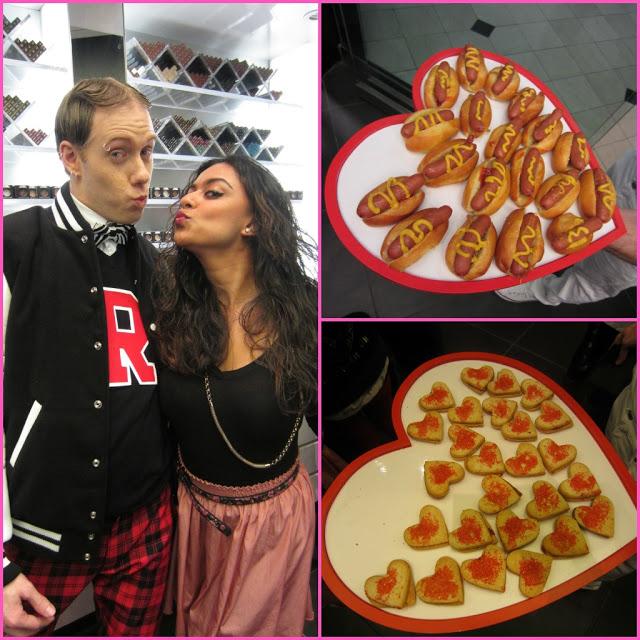 I think Archie liked me a little.........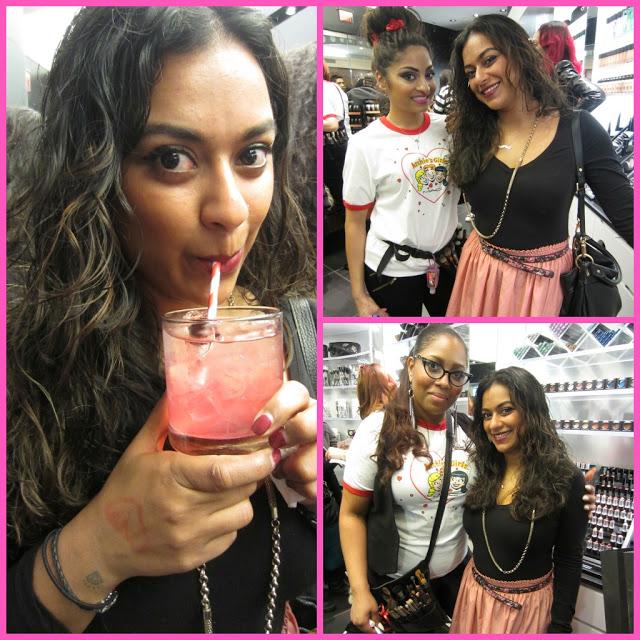 They had the most YUMMY refreshments! Top corner is Becca, how I adore her and her makeup is always on point! Bottom corner is Jae, her makeup was amazing also and she was so helpful with EVERYTHING!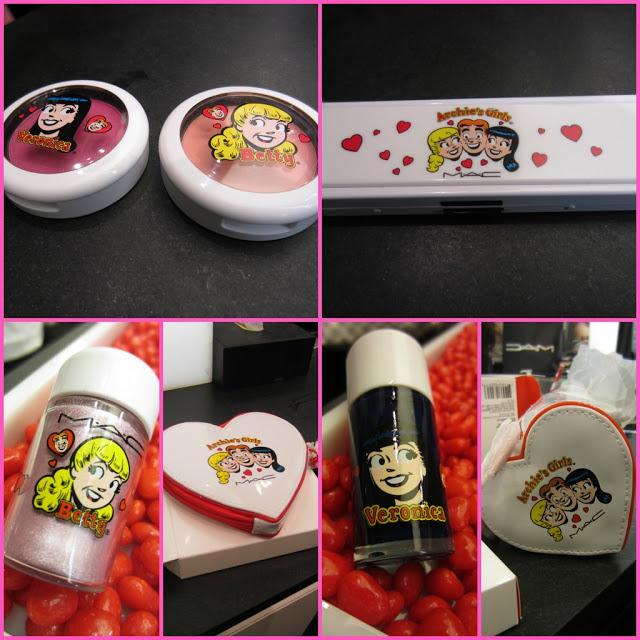 What I'm wearing: 
Express Basic TeeAmerican Apparel Skirt Marc by Marc Jacobs BagForever 21 Accessories 
Makeup:
MAC Rebel LipstickMAC Sincere BlushMaybelline Lash Stiletto Liquid LinerMAC Zoom Lash Mascara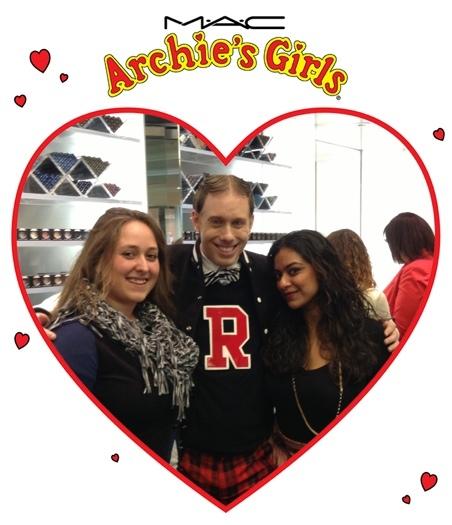 As always, thanks to my bff Michelle who is thee best and is always so helpful and supportive.