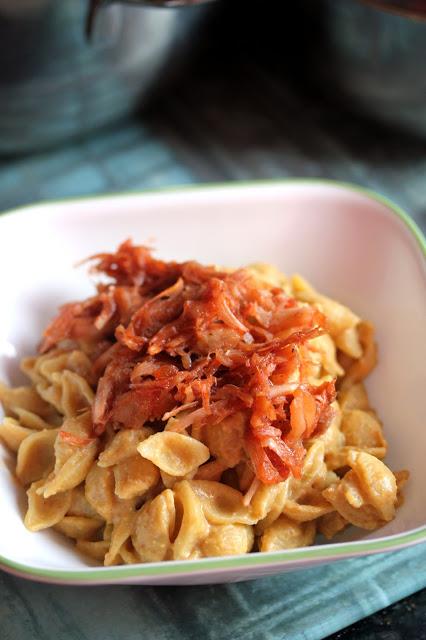 I had to make (kind of) a big decision today. I won't get into the specifics but I will say this: I didn't choose the practical, safe route. I chose what felt right for me and I think what will, in the long run, benefit me and my future career. 
You can never quite be sure if you're making the right decision but you've got to make a decision and stick with it. Don't look back!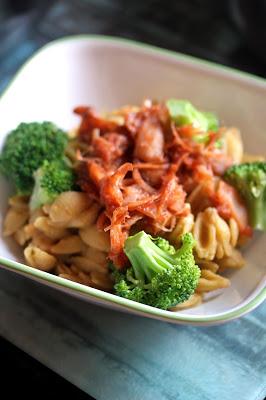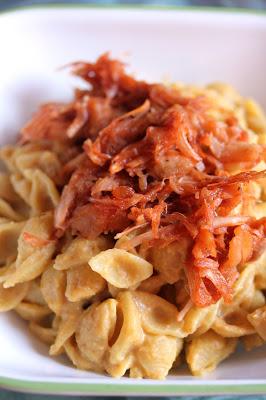 It's times like these when comfort food is ALWAYS helpful. It's for times like these that mac and cheeze was created! For me, there's nothing quite as good as a nice bowl of pasta coated in a cheezy sauce. Add some pulled un-pork and a way we go.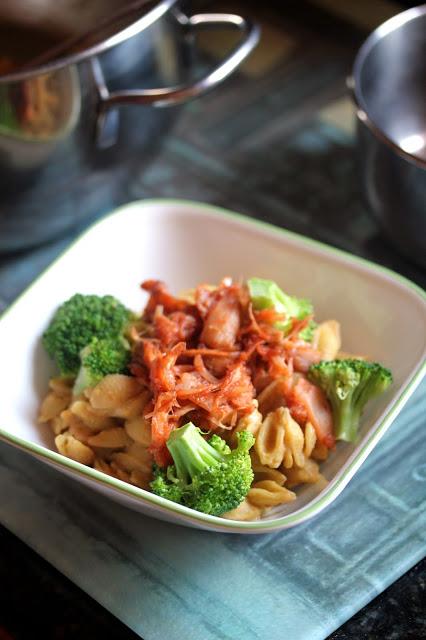 This was our first time making a dish with jackfruit and I quite enjoyed it. We found it difficult to really crisp up the jackfruit, no matter how long we kept it baking in the oven. Nonetheless it was tasty and nice topping to the mac. It's really great how jackfruit just assumes the flavor of whatever you put on it. It's definitely a versatile ingredient. But it's so freaky how much it looks like meat. Just look at it! To let that deter you from trying out jackfruit.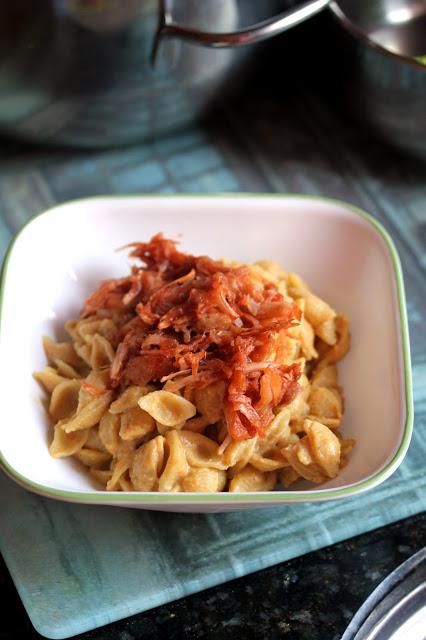 So when you have to make hard choices or the going gets rough, I recommend comfort food and quality time with family and/or friends. It's a no-brainer! 
Caitlin picked up some Tofutti Yours Truly (the most amazing vegan frozen treats) and those always make for the BEST ending to a delicious meal!


Mac and Cheeze with Jackfruit Pulled un-Pork 

IngredientsJackfruit Pulled un-Pork adapted from Yup It's Vegan

1 can of jackfruit, drained

approx.. ½ your favorite BBQ sauce

Cheeze Sauce adapted from The Sweetest Vegan

1 package cooked small shell pasta, or whatever pasta shape you enjoy




1 can romano beans, rinsed and drained (you could use navy or cannellini as well)




1 cup nutritional yeast




1 cup cooked sweet potato




2 - 3 tablespoons soy sauce




1 teaspoon garlic powder




1/4 teaspoon black pepper




3 tablespoons tahini




2 tablespoons agave nectar




1 yellow bell pepper




1/2 cup almond milk


a few splashes of vegetable stock, as needed
DirectionsPulled un-Pork

Remove hard ends from jackfruit. Separate jackfruit into shreds using your hands.




Place jackfruit in a small saucepan and coat with BBQ sauce. Heat on medium-high heat and cook for 10 to 12 mins, stirring occasionally.




Preheat oven to 350°F. Remove jackfruit from saucepan and place on a baking sheet lined with parchment paper. Make sure the jackfruit is assembled in an even layer on the baking sheet.




Bake for 15 mins or until the jackfruit is crisped.


Mac and Cheeze


Blend together romano beans, nutritional yeast, sweet potato, soy sauce, garlic powder, black pepper, tahini, agave nectar, yellow bell pepper, and almond milk. If the mixture is too thick, add a few dashes of vegetable stock until you reach your desired consistency.




You want a finely pureed sauce. No chunks. This can take anywhere from 5 to 10 mins.




Pour it over warm pasta and mix well so that all the shells are coated.




Top with pulled un-pork/ jackfruit and/or broccoli.