Mahendravarman I
 (reigned 
c.
 600–630) contributed to the greatness of the Pallava dynasty. Some of the most ornate monuments at Mamallapuram, especially those dedicated to the Hindu god Shiva, were constructed under his rule (though born a Jain, Mahendravarman converted to Shaivism). He was a great patron of art and architecture and is known for introducing a new style to Dravidian.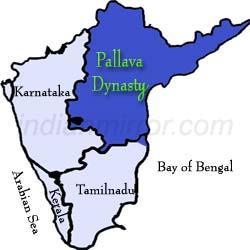 He bore many titles like Chatrumalla, Gunabhara, Vichitrachitta, Mattavilasa, Avanibhajana, Sankirnajati, each one having a specific relation to one of his qualities or aptitudes. He bore even the uncomplimentary title of Kalahapriya
As a Śaivite convert, he did much to support the resurgence of Hinduism in south India after a long period of the religion's being eclipsed by the popularity of Jainism and Buddhism. In his inscriptions, the king refers to himself as Cettakāri (temple builder), and in that respect, he was a pioneer in the creation of stone architecture in south India. Another of his names, Chittrakārapulli (tiger among painters), attests to his ability as an artist. Mahendravarman I was known as a great patron of all the arts; he was known also as a famous musician who wrote a treatise on music.
Mahendravarman I was interested not only in the building of the temples but also in secular engineering structures. He built many towns called Mahendramangalam or Mahendravadi and he dug a tank at Mamandur called Chitramegha Tatakam. It was clearly in his period that the tempo of the Bhakti movement in the Tamil country increased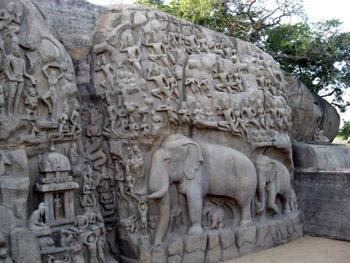 genealogy 
Brahma
|
Angiras
|
Brihaspati
|
Samyu
|
Bharadvaja
|
Drona
|
Asvathaman
|
Pallava
|
Asoka
|
Kalabhartri
|
Chutapallava
|
Virakurcha
(215 CE)
|
Skandavarman I
(240 CE)
|
Kumarvishnu I
(240 CE)
|
Buddhavarman I (265 CE)
|
Skandavarman II (290 CE)
|
Kumarvishnu II (315 CE)
|
Vishnugopa I (340 CE)
|
Skandavarman III (365 CE)
|
Viravarman (390 CE)
|
Skandavarman IV
(403 CE)
|
Yuva-maharaja Vishnugopa (never reigned as a king)
|
Simhavarman I
(436-477 CE)
|—————————————————–|
Skandavarman V
(477 CE)   Vishnugopa II
|
Nandivarman I
(502 CE)
|
Simhavarman II
(527 CE)
|————————————————————————-|
Simhavishnu
(550-580 CE)                          Bhimavarman
|                                                      |
Mahendravarman I
(580-629 CE)                         Buddhavarman
|                                  |
Narasimhavarman I
(629-668 CE)                          Adityavarman
|                                     |
Mahendravarman II
(668-670 CE)                            Govindavarman
|                                       |
Parameshvaravarman I
(670-690 CE)                    Hiranyavarman
|                                    |
|                                          |
Mahendravarman III
(720-728 CE)                                       |
|   |
Parameshvaravarman II
(728-731 CE)                                 |
|————————————————————————–|
|
Dantivarman
(796-847 CE)
|
Nandivarman III
(847-863 CE)
|————————————-|
Nrpatungavarman
(815)
(863-904 CE)   Kampavarman (863-895 CE)
|
Aparajitavarman
(890-908 CE)
Narasimhavarman II (690-728 CE)                                       |
Nandivarman II  (731-796 CE)
References:
http://www.enotes.com/topics/mahendravarman
Britanica encyclopedia
http://www.preservearticles.com/2011092013645/short-biography-of-mahendravarman-i.html
http://puratattva.in/2011/07/20/the-pallavas-part-3-493.html