Again, I blame
Stef
for this... well, and my obsession with Lynnderella in general.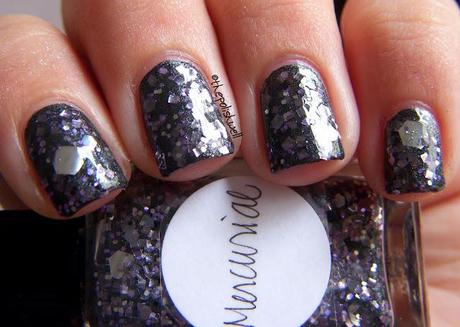 Mercurial is a sheer gray polish with a crazy mix of glitters. The silver glitters come in various shapes and sizes - from hex to square, from small to
huge
 (see the giant hexes on my index and pinky?). Then, there's also some small and medium square black glitters to add some depth. What I love most are the lavender hex glitters that add a soft and interesting touch to the metallic look. Unexpectedly beautiful.
I took quite a while to wear Mercurial because I couldn't quite find the perfect underwear color for it. >.< I didn't want a black base to swallow up the black glitters but the silver glitters also would not stand out against a silvery base. In the end, I decided to go with
China Glaze's Stone Cold
and I must say I'm quite happy with how it turned out. It wasn't too dark or too light for the glitters and the shimmery black went very well with the fine green and lavender shimmer in Mercurial. <3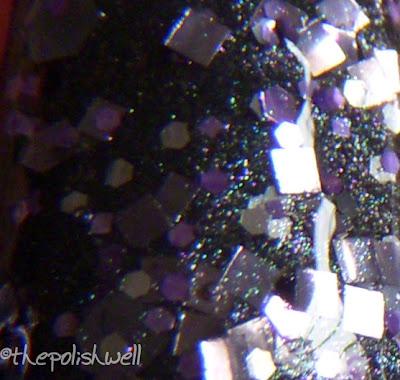 And just because I fell in love with Stone Cold all over again:-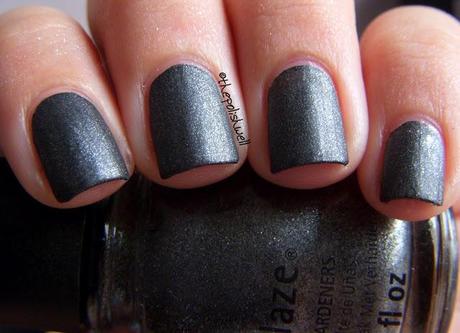 One coat matte wonder <3
Application for Mercurial is a little more tricky because of the larger silver glitters. The giant hexes curl a little and may need a little manipulation for proper placement. Of course, it's nothing that a gentle prod and topcoat couldn't cure. ;)
What do you think of Mercurial?
xoxo,
mich