We're getting closer and closer to summer! Like many others, I have been greatly enjoying the sunshine of the past few weekends and even got to celebrate my birthday in the midst of them. Who can say no to enjoying the great weather, even though I've hit the dreaded 3-0?
Anyway, the amazing weather has me inspired, thinking about island getaways for the summer! While we've had sunny and warm weather in the UK recently, it is by no means guaranteed -  I think everyone can remember summers where it has mostly rained. The places I'm choosing today are guaranteed to be sunny, warm, tropical, and all-round incredible for your honeymoon this or next summer. Here are three top choices for your island honeymoon.
Fiji
Lush Fiji is the dream destination of honeymooners the world over and is certainly not unobtainable for your summer honeymoon. In fact, the summer months are the best time to visit Fiji as you're guaranteed gorgeous weather all day long – May to October are generally drier months with slightly less heat but a whole lot less humidity, making it all around more pleasant to travel. It's actually Fiji's winter but you'll see no resemblance to a British winter, that's for sure.
Fiji is made up of 330 islands, many of which are completely uninhabited. The largest island, Vita Levu, is also home to the airport where you'll arrive. Northern Fiji is generally the lusher part of the country with a bit more rainfall, but this will be in the form of short tropical showers that come for only a brief period of time – usually just long enough for you to get a drink or two from the bar!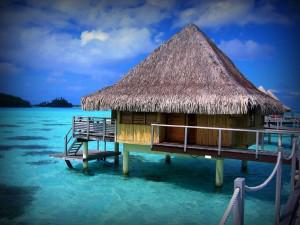 Tahiti (French Polynesia)
Tahiti and Her Islands, sometimes still known by the more common name 'French Polynesia', are considered to be an absolute paradise by many and will certainly fulfil any island honeymoon dreams you might be harbouring. Tahiti is merely the largest and thus best known island in the group of islands. They are all well known for their lush and mountainous landscapes, gorgeous bays and lagoons, and explorer legacy.
Zanzibar
While Zanzibar is most commonly associated with its ruling country of Tanzania, as it forms a perfect two in one 'safari beach' destinations, but I'm only going to talk about the beach half today. Zanzibar is similar to the Indian Ocean islands of Mauritius and the Maldives in that it's washed by the same warm turquoise blue waters and covered in the same soft white sand, shaded by palm trees. Zanzibar is known as the 'spice island' which adds another dimension to the island – you can even go on a spice tour of the island and finish up by learning to cook with the exotic spices you've encountered throughout your time there!
It also has the same calibre of luxury resorts as you'll find across the Indian Ocean, but often with fewer people and far less attention. Many of these resorts are absolutely ideal for privacy and often reflect on the country's African heritage in their design and activities.