For me Brasserie Sixty6 confirms that you shouldn't make up your mind about a place after only one visit. My first visit there was fine. I enjoyed my meal. The moment that ruined everything for me was when a friend ordered a cup of tea and she was brought a cup of warm water with a tea bag on the saucer. Really though, in the grand scheme of things, it's a small mistake but in my narrow-mindedness I avoided the place for years! Thankfully I came to my senses and recently revisited Brasserie Sixty6. Or I should say, recently Brasserie Sixty6 have been offering a fantastic lunch time deal for €10 and the bargain-hunter in me just couldn't refuse!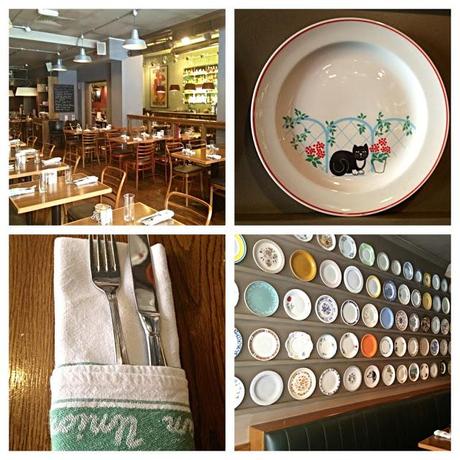 The restaurant is really beautifully designed. I could spend ages looking at all the plates on the walls. The main color scheme is based around a warm light brown color which is picked up in the furniture and contrasted in the crisp napkins. I sank into one of the comfy chairs by the window and perused the menu.
There are eight choices on the "swift lunch" menu all come with either tea, coffee or a soft drink and all cost a meager €10. Choices range from a rotisserie chicken baguette with fries to a very substantial half Irish breakfast (I really couldn't figure out why it's called half!)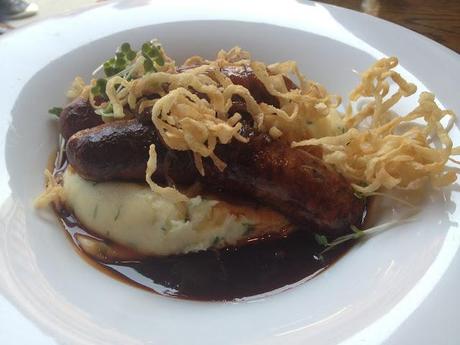 A substantial bangers and mash
M opted for the bangers and mash. We really weren't expecting generous portions so were nearly stunned when a mountain of food arrived! A huge scoop of potatoes with two plump pork sausages all swimming in a very decent gravy. The highlight of the dish was the deep fried onions, I like to call them onion haystacks but I'm not sure of the real name for them. They were quite delicious though and added some pleasant texture to the dish.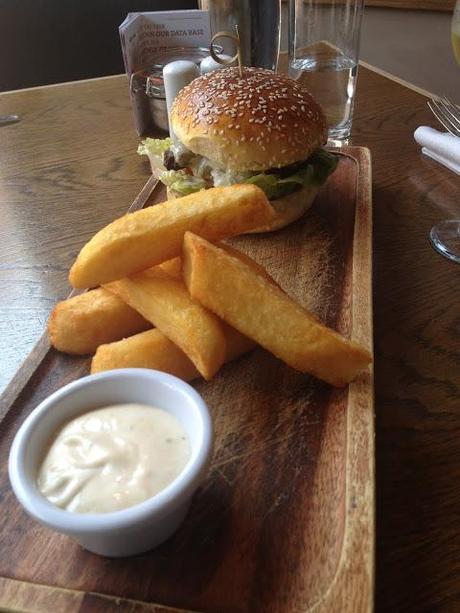 A very tasty beef burger with whooper chunky chips!
I went for the burger which came with super chunky chips and an aioli dipping sauce. The flavor of the burger patty was fantastic, it was smokie but the meat wasn't charred. It was quite a big burger, the type you have to cut in half in order to eat with any sense of decorum! All in all it was great value for €10. 
Given my new found love of Brasserie Sixty6 I will probably be back soon to try the evening menu. I'll most likely stay away from ordering tea though so as not to tempt fate! 
Brasserie Sixty666 - 67 South Great Georges StDublin 201 400 5878 
http://www.brasseriesixty6.com/index.html#