<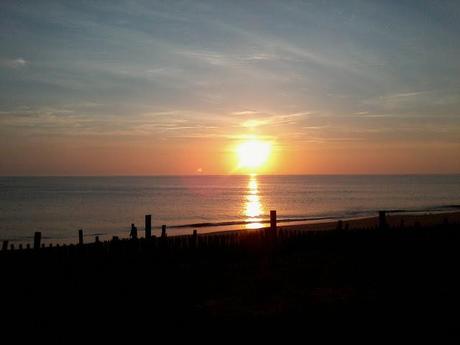 The Low Country boil is the South's equivalent to the Northern Clambake.
Living along the Chesapeake Bay has its perks.
The abundance of seafood makes this dish a summertime favorite.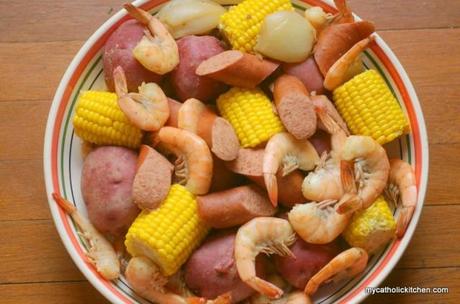 This dish is enjoyed in homes and restaurants all around the Virginia Beach area.
 No wonder it is a local favorite. Not only is is great to eat, it is easy to make and the recipe can easily be doubled or even tripled.
Because it gets so hot here in the South, we use the same type of basket and propane tank that you would use to fry a turkey.
We cook it outside so you do not heat up the kitchen.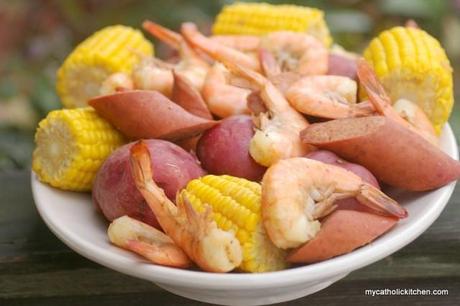 This seafood dish is usually a combination of shrimp, sausage corn and potatoes.
It is perfect for a relaxing trip to the beach.
You can serve this Low Country boil on newspaper to make things easier when it comes to clean up. Crab, Lobster and Crayfish  are frequent additions to the pot, depending on what part of the country you are in.
One thing I do recommend though, if you make this use a pot with a drain basket to make cooking and retrieval easier.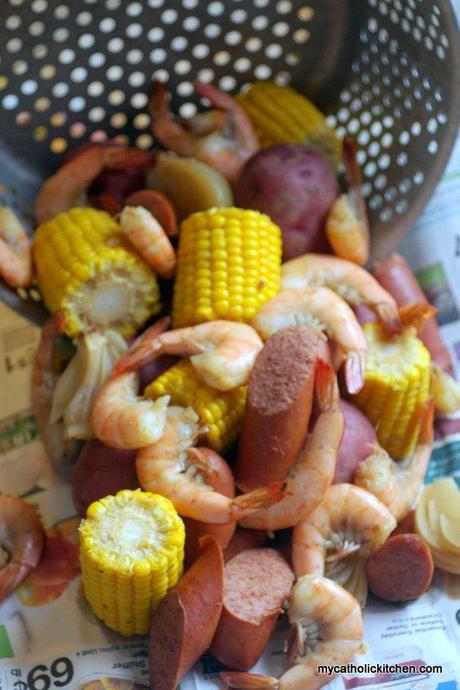 Print Recipe
Low Country Boil
Ingredients:
5 quarts water
3/4 cup Old Bay Seasoning
12 medium red potatoes
6 smokes sausage links cut in half
6 ears corn cut in half
3 pounds shrimp unpeeled
Directions:
Fll a large stock pot with the water and add the seasonings. Bring to a boil. When boiling add the potatoes and sausage. Cook for 20 minutes. Add the corn and cook for another 10 minutes. Add shrimp and other seafood. Cook for 3 minutes. Drain on Newspaper and sprinkle with a bit more seasoning. Serve with bread, melted butter and cocktail sauce.
Peace be with you,
Veronica
Google+

Veronica Gantley (My Catholic Kitchen)