Yesterday marked the start of two weeks without my car. 
My schedule was pretty chill, I had to run out to Howe and Arden area to pick up some stuff for my tutoring job. It was a lovely 30 minute bike ride through East Sac and on the bike trail, very nice. A tool I find invaluable when deciding how to get around is
google maps
. Plug in your destination and starting point and compare driving, biking and public transit.
This particular trip I might have normally used my car; it's quick, there's plenty of parking and there's no traffic at 11 am.
Looking up public transit on google maps I learn this trip will take between 49 and 52 minutes via bus and light rail and cost $5.00. Google also tells me the average cost to make this trip by car, $3.52 and that only takes 14 minutes. Public transit is out.
Biking is free and doesn't take too much longer than driving, plus I don't have to go to the gym that day.
On the way home I meandered through East Sac, stopped in some shops, went grocery shopping and generally enjoyed the nice weather.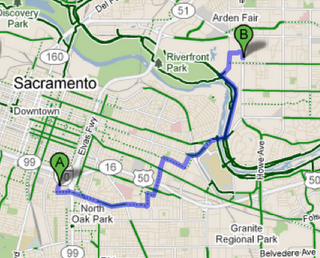 Later that night I was late to a meeting at Fox and Goose. I normally would have used punctuality as an excuse to drive, instead I hopped on my bike and peddled my little heart out. I arrived a little late, a little sweaty... but it was a carbon neutral trip.
Today I have to travel out to the middle of Del Paso Heights, near Interstate 80, off the Norwood exit. The car ride is around 20 minutes and costs $6.11. Public transit would be an hour and three minutes and cost $5.00. Biking would be free and take around 45 minutes. Now, let's be honest here. I'm not super comfortable biking through some of those neighborhoods.
So I turn to
Zipcar.
I booked a car for 3:30-6:00 (my tutoring appointment is from 4 to 5:30). Two and a half hours of a zipcar is going to run me around $21, for an hour an a half of work... I'm breaking even.
But what is the value of not owning a car?
Perhaps I need to not take students I can't bike to and limit my work related events to things within biking distance - only using zipcars when I truly need them for an hour at a time instead of two and a half. 
AAA reported the average cost of owning a car annually is around $8,000 - is it worth it? Luke and I already went from being a two-car-family to a one-car-family. Maybe one is necessary but Zip Car will be there if Luke needs the car for work and I still need wheels for something else.
I'm excited to see how this experiment plays out and if it is going to be something that will work for my family.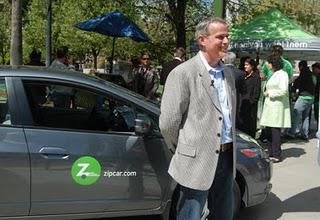 Zipcar regional VP Dan Grossman
Zipcar just came to Sacramento last week. Placing 10 cars around Downtown and Midtown in five different locations. An annual membership is $50 and there's no minimum drive time, plus a one time application fee of $25. Hourly rates in Sacramento start at $8 and daily rates start at $66. A Zipcar includes gas and insurance and you can drive up to 180 miles a day.
What's between you and car-less living?