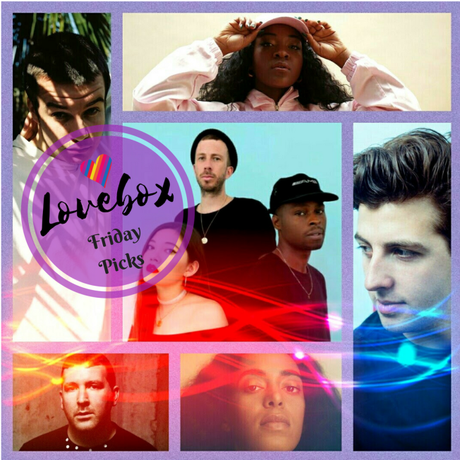 Celebrating its 15th anniversary, Lovebox Festival returns to East London's Victoria Park tomorrow (14-15th July) with an eclectic line-up spanning across the two days. Friday's headline act is the one and only Frank Ocean, performing one of his only two UK festivals this year. With the success of his debut album Channel Orange, followed by 2016's Blonde featuring collaborations from the likes of Beyoncé and Kendrick Lamar, Frank Ocean has wildly become one the most celebrated and critically acclaimed acts of this decade. With a whole host of amazing acts set to kick off Day 1 of Lovebox, celebrating the best of British and international musical talent, here are some of my top picks for Friday:
1) Jamie XX (Main Stage: 7.25pm – 8.40pm)
Jamie xx has the task this year of playing right before main stage headliner, Frank Ocean. However, when you have tracks such as 'I Know There's Gonna Be Good Times', it pretty much speaks for itself. With the massive success of his 2015 debut album In Colour giving us transcendent singles such as 'Loud Places', 'See Saw' and 'Gosh', Jamie xx consistently delivers a wide range of textures & styles, firmly positioning himself as a unique & imaginative contributor to the British dance scene. Jamie xx pushes boundaries and offers up a new realm of possibility from that of his main project, The xx. Whatever you do, make sure you reserve your spot for Jamie's main stage set.
2) Solange (Noisey Stage: 8pm – 9pm)
Over the past few years, Solange couldn't be mentioned in an article without being referred to as as 'Beyonce's Sister'. However, after years of hard work proving herself as an established, forward-thinking and grammy-winning artist, Solange can finally lose the 'Beyonce' tag. Her most recent album,  A Seat at the Table, confidently dealt with the complexities of black womanhood. With stunning singles such as 'Cranes in the Sky', 'Mad' ft Lil Wayne and 'Don't Touch My Hair' ft Sampha, Solange has made a fearless stance with her empowering body of work.  Having recently performed on Glastonbury's West Holt Stage to rave reviews (one of the few performances that wasn't allowed to be filmed for the BBC coverage) make sure you don't miss her Lovebox set.
3) Rex Orange County (Noisey Stage: 2.20pm – 2.50pm)
Rex Orange County (aka Alex O'Conner) first came to my attention last year with his single 'UNO', serving up a refreshing slice of charming lo-fi mixed with witty conversational style vocals. When your talents have been recognised by Tyler the Creator, you know you're onto something pretty special and unique. With the release of his self-produced debut album  'bcos u will never b free', featuring on Tyler's recent track 'Boredom', to his most recent debut album proper, Apricot Princess, ROC's material offers up a personable outlook on life, effortlessly blending various styles from pop and indie to jazz and hip-hop. Showcasing  a talent far beyond his years, O'Conner's melodic hooks are infectious and unassuming as heard in tracks such as 'Best Friend', 'Sunflower' and 'Sycamore Girls'.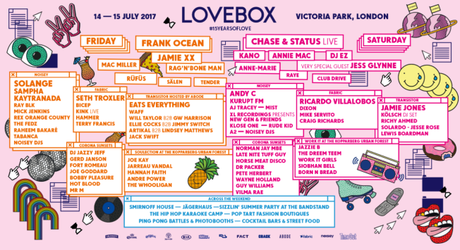 4) Sälen (Main Stage: 2.45pm- 3.15pm)
Self described as 'Straight-talking, slightly to the left pop music'', Sälen is made up of Ellie Kamio, Paul Taylor Wade and Simon Milner. The London trio, whose name is inspired by a small Swedish village with 652 inhabitants, serve up some effortlessly cool vibes with a unique edge. From their infectious synth-pop vibes of 'Diseasey' and 'Heartbreak Diet' to the saccharine-induced tones of 'So Rude' and 'Copper Kiss', Sälen's eclectic influences set them apart from their contemporaries serving up a delectable form of 'explicit pop'. With their glossy productions, breezy melodies and sweet sugary vocals akin to the likes of AlunaGeorge, this is one act that certainly won't disappoint.
5) Ray BLK (Noisey Stage:4.00pm – 4.30pm)
23-year-old Ray BLK kicked off the year as BBC's Sound of 2017 winner and has since gone from strength to strength with her straight-talking, down to earth attitude.  With the success of previous tracks 'My Hood', 'Chill Out, '2am' and her most recent offering 'Doing Me', Ray perfectly balances her free style vocals and soulful R&B melodies, delivering a refreshing slice of UK R&B. Having recently featured on Gorillaz's latest album Humanz alongside Zebra Katz and Rag'n'Bone Man, as well as previous collaborations with Stormzy and Wretch 32,  Ray is currently working on her debut album, which will no doubt represent her core values from her stage name, BLK (Building, Living Knowing)
6) Joe Goddard  (Corona Sunsets Stage: 4.00pm – 5.30pm)
As one half of house-duo 2 Bears, member of electro band Hot Chip and co founder of the Greco-Roman imprint, Producer/DJ Joe Goddard has released over a decade worth of albums and remixes – even earning him a Grammy nomination for his edit of the Chemical Brothers' 'Wide Open'. While his many side projects keep him busy, Goddard finally unveiled his highly anticipated first official solo album, Electric Lines. The album skilfully pays homage to the history of dance music and retro electro. His infectious form of house, disco, techno, creativity and left-wing pop music, has given us gems such as 'Gabriel', 'Taking Over' and more recently 'Home' and 'Truth Is The Answer'.
With so many incredible acts kicking of Day 1 of Lovebox, it's impossible to narrow down my top picks. Notable mentions have to go to Sampha, Eats Everything, Bicep, Seth Troxler, Kaytranada & DJ Jazzy Jeff – all of which I'll definitely be checking out throughout the day. So to get you in the mood for some sun and music this weekend, check out my Lovebox Playlist below. Check back soon for Saturday's picks!
Advertisements