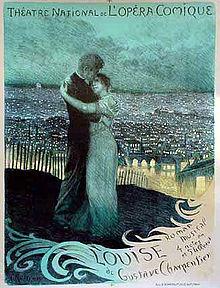 Poster for the premiere of Louise by Charpentier
Editor's note: Louise premiered on February 2, Groundhog Day, in 1900, in Paris, France. (This is a Golden Operatoonity post).
My classmate Ginger found a great book on opera at a thrift shop somewhere in the lower forty-eight (she's always flitting about the country) called The Standard Opera and Concert Guide and mailed it to me.
It's a wonderful old book with detailed information about popular and not-so-popular operas. I thought I'd introduce readers to a composer and opera I'd never heard of: Louise by Gustave Charpentier, first produced in Paris in 1900.
A French example of verismo opera, it tells the story of the love between Louise, a seamstress living with her parents, and Julien, a Bohemian poet. It is the story of Louise's desire for freedom (associated in her mind with her lover and the city of Paris). According to Standard Opera and Concert Guide, it is like La Bohème in that it is "first and last a story of Paris life."
The plot turns upon Louise breaking her home ties in a tragic way, with the accompaniments of the Paris street life and the revels of Montmartre, her hometown.
The kernel of the story resonates for me. My daughter moved to Vermont to go to college and was exposed to a much different, more Bohemian way of life than she was exposed to in little old Lancaster County. It is sometimes hard and heart-breaking to watch your children break away, struggling to find themselves, but very necessary to their maturity.
Not that anything tragic has befallen our family as a result of my daughter's finding a new home in Brattleboro, but the angst between Louise and her father, in particular, certainly hits home for me. Her dying father rages that Louise does not love him as she used to. Louise responds by saying all she wants in Julien and Paris. The her father then bids Louise never return.  When he realizes the error of his actions, Louise is long gone.
Who among us hasn't felt pushed out of our children's lives by friends and other circumstances?
The  music is purportedly wonderfully expressive of the traits and character of Parisian street life. I haven't found any US opera companies that have produced it lately. Louise is, however, available on many recordings.
Many sopranos have recorded the "Depuis le jour,"  the signature aria: Sills, Callas, Moffo, Price, Fleming.  Here's a beautiful version of "Depuis le jour,"  the signature aria, live from Covent Garden, sung by Angela Gheorghiu: