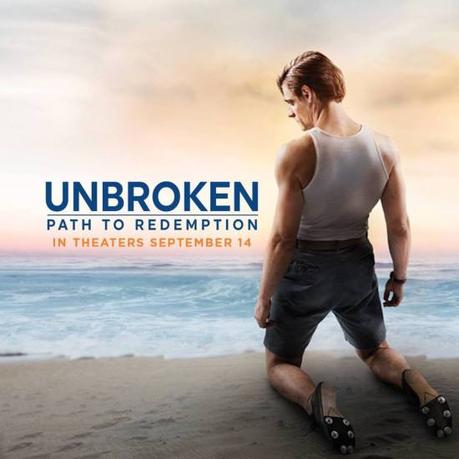 Based on Laura Hillenbrand's bestselling book, UNBROKEN: PATH TO REDEMPTION, begins where the hit movie UNBROKEN concludes, sharing the next chapter of the unbelievable true story of Olympian and World War II hero, Louis Zamperini.
Bringing to life the rest of Zamperini's powerful real-life story of forgiveness, redemption and amazing grace, UNBROKEN: PATH TO REDEMPTION stars Samuel Hunt (Chicago P.D.) as Zamperini; Merritt Patterson ("The Royals") as his wife, Cynthia; David Sakurai ("Iron Fist") as Zamperini's prison guard, Watanabe/'The Bird'; Gary Cole (Talladega Nights) as Dr. George Bailey and Will Graham as his own grandfather, evangelist Billy Graham.
Written by Richard Friedenberg (A River Runs Through It) and Kenneth Hixon (City By The Sea), the film is produced by Matthew Baer and Mike Elliott, directed by Harold Cronk, and executive produced by Dave Mechem, Luke Zamperini, Cynthia Garris, Erik Weir, Bill Reeves and Michael Scott.
UNBROKEN: PATH TO REDEMPTION is produced and released by Universal 1440 Entertainment, The WTA Group and Pure Flix.
---

MY THOUGHTS:  I didn't see the first movie, UNBROKEN, produced by Angelina Jolie, and to be honest, I don't think it affected my understanding of this movie.  You can consider it part real life knowledge of the events mixed with part information provided in the sequel, but I didn't feel like I missed out on anything. 
The movie starts out showing us Lou Zamperini as a youngster – a bit of a wild child – growing up in a neighborhood of Torrence, California.  With the encouragement of his brother, Pete, he puts all of his energy into running track and field in school.  He gets good enough as a 19-year-old high schooler to make the U.S. team for the 1936 Olympics.  The nation is rallying around him, but then he's enlisted into World War II and he is captured and becomes a prisoner of war.  He's held captive so long that he is declared dead, but then he's freed from captivity in Japan and returned to California.
That's when the story in this movie begins.  As the tag to the movie says, "when the war ended, his battle began." 
This sequel shows us the Lou that comes home to California and tries to resume his life. Unfortunately, he is suffering from post traumatic stress disorder that is going untreated, however, Lou himself believes he is treating it with too much alcohol in order to try and forget.  Lou does some public speaking for the Armed Forces and his drinking is discovered.  It is then suggested that he get away, go to Florida and "dry out", where he meets and marries the love of his life, Cynthia Applewhite.
On the outside, it appears Lou is a winner and he has it all – beautiful wife, new life, new baby, the works, but inside he is wrestling with PTSD.  His constant nightmares about the treatment he received at the prisoner camp – especially the treatment of the camp guard known as "The Bird" – Mutsuhiro Watanabe.  Louie falls deeper and deeper into depression and despair and he continues drinking to medicate his murderous obsession with revenge on The Bird.
Lou's alcoholism is putting his entire life in jeopardy, to the extent that his wife is just about ready to leave him. That is, until she attends the Billy Graham crusade one night and finds her faith in God and feels directed by Him to remain committed to her marriage and stay with her husband and help lead him to the Lord. 
Finally, during the fall of 1949, Cynthia is able to convince Lou to attend the Billy Graham crusade with her on another night.  Lou goes to appease his wife, but his heart isn't in it — that is, until his heart is called to be in it. While Graham is preaching, Louie commits himself to Christ and his faith is restored.
He comes home, pours out all the liquor in all the hidden places in the house. His feelings of suicide, depression, and darkness are lifted and his nightmares immediately disappear.  Soon after, Louie begins the process of healing, both himself and in finding forgiveness for his captors.
As I am typing this review, I'm thinking "man, with this review, people aren't going to see how big this story really is, and how messy the path from point A to point B really was."  Please know that there was a lot of life in between that happened in Louie's life that brought him to accepting Christ and joining God's Army.
---
Connect with the movie's social media here:
  WEBSITE  //  FACEBOOK  //  TWITTER  //  INSTAGRAM  //  YOUTUBE
---
I received a complimentary copy of this movie (via digital app) in exchange for this post.  A positive review was not required, but with a move this good, how could it not be? Thanks so much Fly By Promotions! I've really enjoyed this assignment!!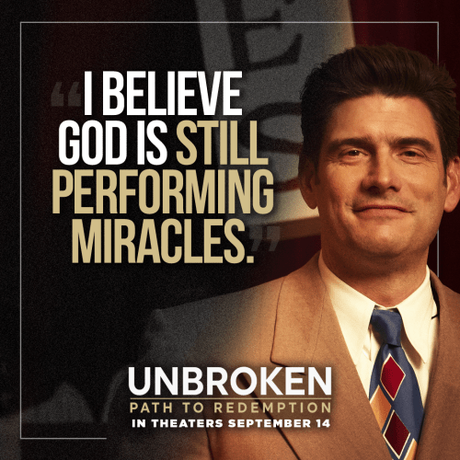 ~ ~ ~ ~ ~ ~ ~ ~ ~ ~ ~ ~ ~ ~ ~ ~ ~ ~

It would be great if you would stay connected with me!! You can follow me on Twitter @DebiL1611, like me on Facebook at 2014 and Beyond, circle me on Google+, follow me on Tumblr, Instagram and Bloglovin', subscribe on YouTube, or connect with me on LinkedIn and Pinterest.

Please make sure to visit my homepage and subscribe to my blog for more great posts on running, fitness and lifestyle topics as well as food, product, music and book reviews, and more!