Hey people

most of us belong to this species where the tanning sounds scary. If not you, its ME. I am dusky. I get tanned easily. I step out for a minute and I can see my face turning deep red and then after sometime, I can see myself a shade or two darker. Swimming is one thing which excites me coz this summer is too harsh on my skin and swimming soothes me. But, the problem is you get tanned super easily and the tan stays on for few months and it can only be taken out by using too many creams and scrubs.The whole process is time taking and tedious. So, to avoid all this, we were advised to use the Sunscreen and using it before you step out of your home can reduce the skin damage. Now that the topic has come, the market has too many variants of the sun screens and you don't really know which one to be used. That's when this beauty bloggers come to your rescue. Check the reviews and get the most high rated one.LOL. After the satisfying results of 

Lotus Herbals Absolute Anti-Tan Gel ,

 I am here to give you my 2 cents of experience in why you can buy this product.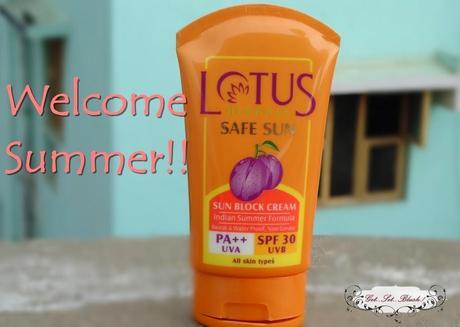 Price and Quantity:
INR 295 for 100gms
you can buy here Amazon.in or FlipKart
Lotus Herbal Says:
This unique cream has been formulated especially for the Indian summer. It contains PARSOL® 1789 and black plum extract for complete protection against the harmful UVA & UVB rays, preventing skin from tanning and aging. Good for all parts of the body, reapply frequently for maximum protection.
Ingredients:
Black Plum Extract- Astringent & moisturizing. Octyl Methoxy Cinnamate- organic UV-B Sunscreen agent. Zinc cote- Physical sunscreen agent, micro fine Titanium dioxide - Physical sunscreen agent. Benzophenone-3 - Excellent organic UV-A Sunscreen agent.
How to use:
Apply cream liberally and evenly on face and exposed parts of body before exposure to sun. Cream will not get washed/wiped with water/sweat.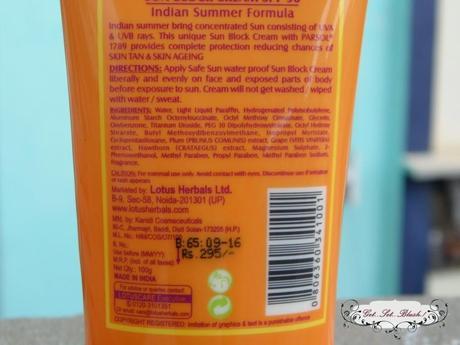 My Take:
I don't really know why market has sunscreens ranging from SPF 8 till SPF 100. I am not a dermatologist but I was advised by my doctor not to use the SPF 100 creams on daily basis. Yes, if you are on a holiday and you get to stay in the Sun for long, that too in summer.But if you are on your daily work and not really in the sun for whole day, you can actually stick to the Sun screen that has SPF 30 to SPF 50. Anything more than that can be harsh on skin on a long run. I prefer the mild protection as I know that I will be in the Sun for not more than 30mins. So, I feel this one is just perfect for working women. I used the Lotus Herbals Absolute Anti-Tan Gel and this one really worked. But you know, we get bored of anything and we long to try something new. This Sunscreen however is good. I use it on my face daily to work.I sweat during the travel but this stays on without being wiped away. The sunscreen is a thick cream which is a bit tricky to work with. You can apply in very small dots over the face and then blend in. Else you may end up with a whitecast on the face if the product is taken more.It is sweat proof. But when I used to before swimming, I somehow felt that it wiped away in sometime. Now I knew that you have to apply a sunscreen at least 20 mins before you jump into the pool. This is more like a good sunscreen but not the best. I loved the Lotus Herbals Sun Protection Range the most because of their variants. I would love to buy the SPF40 and SPF 50 one and not this because I have oily combination skin and using this takes me so long to blend in to the skin and in turn makes it oily in an hour.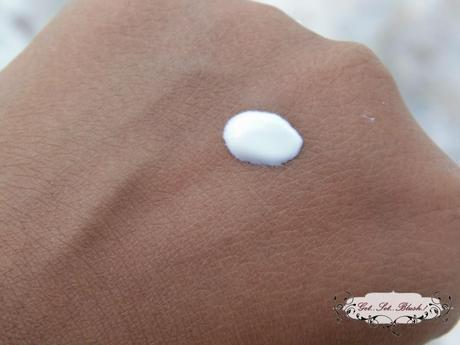 My Rating:
3.5/5
Recommendations:
I doubt why I gave it a rating of 3.5 but it means that it was tough for me to blend and then wait till it gets absorbed and then apply my compact.This also makes my skin oily in an hour. Apart from this, no con! If you like cream based Sunscreens and if you have dry/normal skin, this is just for you. I am sure you will love it.