Hello everyone!
First of all I'd like to apologize for the lack of posts recently. I have had the most exciting, fun and hectic few weeks of my life for three reasons:
I went on holiday to Rome and it was amazing!! I'm going to write a post about it soon.
I got engaged!
It was my birthday!
So the past few weeks have been amazing and exciting but haven't left too much time for blogging. I celebrated my birthday with family and friends and I feel very fortunate that I have wonderful people around me to celebrate exciting occasions with. I also feel very lucky that I received so many lovely cards and presents. I got a few items that I thought I'd share with you.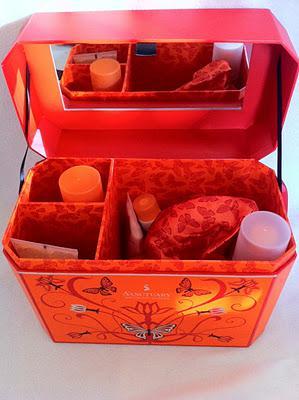 Sanctuary Gift Set
My gorgeous friend Lauren bought me this amazing gift set from Sanctuary Spa in Covent Garden. This set is huge and as soon as you open the lid it smells absolutely gorgeous. The items contained in it are: a body wash, a body scrub, a foaming bath soak, body butter, intensive rescue heel balm, a body lotion and a shower cap. All the products smell amazing and are very rich and luxurious. I can't wait to have a pamper evening and try them all out! What I love more than anything about this present is the box.  It's a huge, solid box complete with a mirror and compartments and is going to be my deluxe makeup box!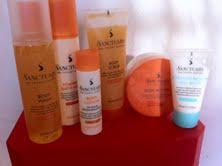 Items included in gift set
I also got a No 7 gift set from my boyfriend's parents, which I cannot wait to try out. The set includes a gorgeous blue makeup bag and lots of lovely miniature No 7 products including: a 5ml Protect and Prefect Beauty Serum, 10ml Protect and Perfect Hand Cream, a Stay Perfect Eye Shadow shade 69 Starry Lights, a Glitter Eyeliner, 4.5 ml Exceptional Definition Mascara and a full size High Shine Lip Gloss shade Whisper.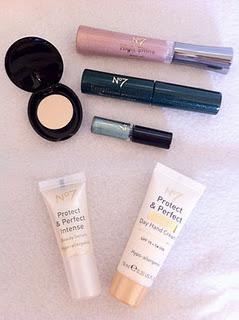 Items included in No 7 set
I really can't wait to try out all these new products and I'll post about my favorite products. I am a very lucky lady!